Doctor Who
(1996)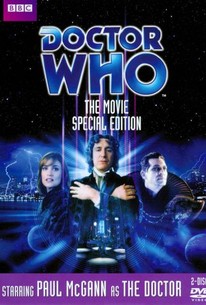 AUDIENCE SCORE
Critic Consensus: No consensus yet.
Movie Info
Coproduced by the BBC and America's Fox Network, the two-hour movie Doctor Who was an attempt to revive the phenomenally popular science-fiction series which orginally ran from 1963 to 1989. Sylvester McCoy, the last of seven actors to play the Doctor, here repeats his familiar role--albeit briefly, inasmuch as he is shot by a San Francisco street-gang member on the eve of the 21st century. Rushed to a hospital, the Doctor undergoes his eighth regeneration, whereupon Paul McGann takes over the role. Now the Doctor must do battle with his longtime foe The Master to prevent the latter from harnessing the Time Lords' "Eye of Harmony" for his own nefarious purposes. Only one problem: The Doctor is suffering from amnesia, and has no idea who he is or what he is supposed to do. Written by Matthew Jacobs, Doctor Who first aired in America on May 14, 1996, and in England thirteen days later. Unfortunately, the pilot did not result in a full-scale Doctor Who revival.
News & Interviews for Doctor Who
Critic Reviews for Doctor Who
All Critics (1) | Fresh (1) | Rotten (0)
... plays like the missing link between the original run and the 21st Century BBC revision, or maybe an evolutionary offshoot that never thrived.
Audience Reviews for Doctor Who
½
I'm absolutely bonkers about Dr. Who. When it's at its best there is no finer Sci-Fi. It manages to mix the supernatural, science fiction, horror, comedy, and history seamlessly at times. This was the failed attempt at reviving Dr Who, with a stronger focus on getting him to break America. This was probably the biggest mistake of all. It reminds me of when pop stars/comedians try and crack the ever important (in terms of money and fame) market. It seems like a lot of the Dr's identity is lost along the way.However, being able to view this after 6 seasons of the most recent incarnations, this isn't so bad. In fact, it is a damn sight better than some of the nonsense Russell T. Davies subjected the audince to (I love a lot of his stuff, but he was hit and miss). Paul McGann is fantastic. Maybe I have a soft spot for The Doctors that didn't last long, but I can't wait to read the novels based on his character. McCoy gets a decent send off and unlike the more recent Doctors it's also fairly subtle and underplayed. Eric Roberts is menacing, but also confusing at times. He starts almost off robotic, and is later camp. A mix between the terminator, a lizard alien thing, and a gay pop star. There are some awful performances, mostly because the American cast members don't seem to understand the tone they should be going for. This is most likely down to bad direction. Overall most of the plot holes that boil fans' blood can be ignored. The half human thing kind of makes sense in a way, as a planet hopping time traveller should really spend some more time away from Earth otherwise. Daleks holding a trial is confusing though. Certainly one to check out, and actually a pleasant surprise after all the negativity.
Luke Baldock
Super Reviewer
½
The Doctor is charged with transporting the remains of his old nemesis The Master but crashes land on new year's eve, 1999 in San Francisco when his death reveals itself to be a cunning deception. The first attempt at reinventing the much loved British sci-fi character met with much hostility upon its release, but in retrospect the criticisms were actually a little unfair. Paul McGann actually makes quite a good doctor and certainly looks the part, and the back story of his regeneration is rather clever. The visuals are a little over egged in places but otherwise it looks quite good and it has a decent mix of action and humour. The biggest problem lies with the script; the plot is nonsense and Eric Roberts plays The Master like a cross between the Terminator and a pantomime villain; as for the whole rubbish CGI goo-spitting snake creature, don't get me started...It's a shame because if they'd made it a bit more "space-y" and used the Daleks or the Cybermen, it could've worked really well. The real reason it was so villified was the fact that the pedantic old school fans weren't ready for a Doctor Who who had car chases, kissed girls and was (horror of horrors!) half human and so it both alienated its faithful fans as well as failing to capture the imagination of a new generation in the way the BBC reincarnation did. It's still nowhere near as bad as it's been made out to be and is certainly better than some episodes of the Tennant series were.
Good TARDIS interior set designs and good special effects; but the plot was weak and confusing. More work should've gone into it. The San Francisco setting didn't feel much like Doctor Who. Poor Sylvester McCoy, Doctor #7, didn't have a very nice sendoff. Paul McGann was a great choice to play the 8th Doctor. He had a good costume and romantic personality. I didn't like the new Master (played by Eric Roberts) with his new guise and body-swapping abilities. The Doctor's lovely new companion Dr. Grace was a warm way to welcome the new Doctor. By writing a poor script, the writers basically wrote off the possibility of a new series with McGann every happening. It wasn't the time or the space for him. Instead we're left with an 8th Doctor animated webcast, and a series of novels and audio adventures which we can't see onscreen.
Lafe Fredbjornson
Super Reviewer
Doctor Who Quotes
| | |
| --- | --- |
| The Doctor #8: | It was on the planet, Skaro that my old enemy, The Master was finally put on trial. They said he listened calmly as the list of evil crimes was read. The sentence passed. But then he made his last & I though somewhat curious request. He demanded that I, The Doctor a rival time lord should take his remains back to our home planet, Gallifrey. It was a request they should never have granted. |
| | |
| --- | --- |
| The Doctor #8: | Oh, no! Not again! |
| | |
| --- | --- |
| The Doctor #8: | I can't make your dream come true forever, but I can make it come true today. |
| | |
| --- | --- |
| The Doctor #8: | I love humans. Always looking for patterns in things that aren't there. |