Doctor Who - An Unearthly Child
(1963)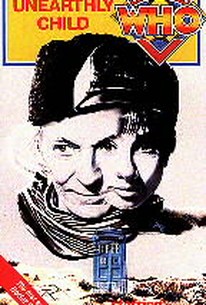 AUDIENCE SCORE
Critic Consensus: No consensus yet.
Critic Reviews for Doctor Who - An Unearthly Child
All Critics (1) | Fresh (1) | Rotten (0)
The original episode does a great job of getting across what is a crazy plot by today's standards, let alone back in 63. The remaining three episodes are rather dull sadly.
Audience Reviews for Doctor Who - An Unearthly Child
For my second review of my Doctor Who mini-series, I'm going all the way back to the beginning of the story. London, 1963. Two teachers have a teenaged girl in their class called Susan who is a mystery to them - she excels in history, is shockingly poor on contemporary information and has bizarre answers to some subjects. But when they attempt to seek answers behind her unusual behaviour, they encounter a junk yard, a Police Box with an unearthly vibration and a hostile old man... and what starts as a visit because of their concern becomes a lot more than they can even expect - and the beginning of a television series which has lasted for nearly fifty years. PLEASE DO NOT READ ON IF YOU HAVE NOT SEEN THIS STORY OR YOU DON'T WANT TO KNOW ANY OF THE BACKGROUND INFORMATION TO IT - SPOILERS ============================================================= Now, you're probably wondering why am I bothering reviewing a story that I consider a 60%? The reason for this is the first part of this four part story. It very much sets up the premise for the series which are tweaked and amended as time goes on. The Doctor is present, but his character is quite different to the character that a lot of people may be aware of. He is amoral - not caring for anybody's concerns other than that of his own and his grand-daughter. William Hartnell takes this role and makes him unpleasant enough to be the anti-hero, but not too unpleasant where the character becomes unlikeable. His companions are also different in style to what viewers come to know in the current version of the series. Firstly, his first companion is his own grand-daughter, Susan (portrayed by Carole-Ann Ford) is from his own civilisation and Ford shows a mixture of the nature of a teenager on the verge of becoming a woman and an alien nature which sets her apart from her school peers. The other two companions, school teachers Ian Chesterton (William Russell) and Barbara Wright (Jacqueline Hill), are in effect kidnapped by the Doctor. Both Russell and Hill have to express not only the emotions of people who are taken against their will within the framework of a TV series which was transmitted on early evenings for a family audience, but also have to convey the disbelief that they have entered an advanced time and space travel machine in the shape of a London Police Box. Director Waris Hussain uses the opening episode to generate an sense of foreboding with a fog shrouded London to accompany the mystery behind Susan's character and that of the Doctor. It's a great opener to what is eventually to come which is why I'd give this episode alone 80 - 90%. However, the episodes immediately following this one of this story are forgettable as the time travellers are trapped on pre-historic Earth and are caught up in a power struggle between a group of cavemen who are trying to make fire. So I would only give these episodes approximately a 40 - 50% rating.
Theta Sigma
Super Reviewer
Doctor Who - An Unearthly Child Quotes
There are no approved quotes yet for this movie.