Doctor Who - The Caves of Androzani
(1984)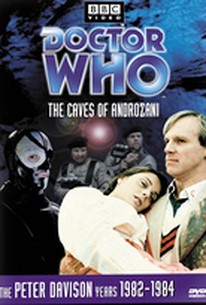 AUDIENCE SCORE
Critic Consensus: No consensus yet.
Movie Info
On the mining planet Androzani Minor, Dr. Who has an unlikely savior, Saraz Jek, the master android creator who may be the biggest drug baron in the universe.
Critic Reviews for Doctor Who - The Caves of Androzani
There are no critic reviews yet for Doctor Who - The Caves of Androzani. Keep checking Rotten Tomatoes for updates!
Audience Reviews for Doctor Who - The Caves of Androzani
I'm gonna start this five week mini review odyssey with a story widely acknowledged as not only the best story from Classic Doctor Who - but the best story from Doctor Who's near fifty year history, period!!! The fifth incarnation of the Doctor (portrayed by Peter Davison) travels to the planet Androzani Minor with his newly acquired American companion, Peri (Nicola Bryant). Unfortunately, the Doctor and Peri have stumbled into a war zone for a drug called Spectrox between military forces, a group of gun runners and a group of android rebels led by the enigmatic Sharaz Jek. But there is an additional problem for the Doctor and Peri - after encountering a raw Spectrox nest, they have both been infected with a deadly toxemia for which there is no cure. Caught in the crossfire, the clock is ticking and the Doctor is running out of options to save both himself and his young friend. PLEASE DO NOT READ ON UNLESS YOU'VE EITHER SEEN THIS STORY OR YOU ARE CURIOUS TO READ THE BACKGROUND BEHIND THIS STORY BEFORE POSSIBLY SEEING IT ============================================================= This story is unique in Doctor Who's history for several reasons. First off, this is a story which leads to a "regeneration" (for the uninitiated out there, the fictional device to replace the outgoing leading actor with the new incumbent in the role). Peter Davison uses this to deliver what must rank as his his finest portrayal in his tenure of the role. The Doctor is usually seen as the man with the wit, charm and intelligence to solve any problem. With this stripped away from him due to the escalating situation around him and his imminent demise facing him, this is a Doctor that the viewer hasn't seen in the series up to that point. As the plot progresses, the character becomes less and less like the calming influence that viewers come to expect and becomes more and more like a wounded animal. Davison is ably supported by Nicola Bryant as Peri who moves away from the tradtional screaming damsel in distress that viewers were presented with as the Doctor's companion to that point and it was a pity that this partnership did not continue beyond this point. The supporting cast is also of a high standard most notably Christopher Gable as the disfigured Jek with a simmering yet restrained vengeful quality of anger, Maurice Roeves as the vicious gunrunner Stotz and John Normington as the duplicitous and deliciously evil corporate head honcho, Morgus. The second point of interest is that no other script prior to this overtly shows violence and cynicism to this level. Laser guns are replaced with submachine guns and bombs - there's something more chilling about death and violence, even in science fiction, being shown "on the end of a bullet" rather than through the traditional device of a "ray gun". In addition to this, all of the characters - apart from the Doctor and Peri, are motivated by petty motives of greed or vengeance - whether it's Jek's desire to avenge himself for his disfigurement, the gunrunners desire to make a little money for themselves or Morgus' desire for political power to sit alongside his use of corporate power. This makes the storyline more "real" than a story with technobabble as it's main driving force. The direction by first time director, Graeme Harper, is perfectly paced in the series' original format of 25 minute episode and has one of the best cliffhangers in the series' history at the end of Part Three. If you're only used to the current format of the series which has been running since 2005, give this story a try. If you're interested in science fiction series with a British twist, I'd also recommend this story as a starting point to watching Doctor Who.
Theta Sigma
Super Reviewer
Doctor Who - The Caves of Androzani Quotes
There are no approved quotes yet for this movie.