Doctor Who: The Empty Child
(2006)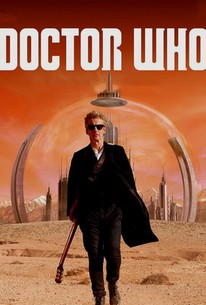 AUDIENCE SCORE
Critic Consensus: No consensus yet.
Critic Reviews for Doctor Who: The Empty Child
There are no critic reviews yet for Doctor Who: The Empty Child. Keep checking Rotten Tomatoes for updates!
Audience Reviews for Doctor Who: The Empty Child
The Doctor, now in his ninth incarnation (Christopher Eccleston) and his companion, Rose Tyler (Billie Piper) arrive in London of the Blitz in pursuit of a piece of dangerous space debris. But how is this debris connected to a young boy who has the ability to communicate through anything that has a speaker and asks for his mummy, a girl who has organised a group of children into raiding people's homes for food whilst the Blitz takes place, a plague of gas mask wearing zombies and an American RAF captain who is going to have a major impact on the Doctor's future? SPOILERS AHEAD - PLEASE DON'T READ ON UNLESS YOU'VE SEEN THE WHOLE STORY (THE EMPTY CHILD & THE DOCTOR DANCES) OR YOU DON'T WANT TO KNOW THE BACKGROUND TO THIS STORY ============================================================ Firstly, I need to put this story into context of the series' history. This is a two parter that formed part of Doctor Who's first series following it's extended hiatus of 16 years and was the scariest story of that particular series, but more on that later. Christopher Eccleston was always going to be an unlikely choice to portray the lead as an eccentric alien time traveller, but he delivers a pitch perfect performance which carries a weight of authority in the escalating situation of the plague, comedy - such as in the scene when he asks whether an object has dropped out of the sky in a nightclub cabaret during the Blitz and a pride in the accomplishments of the human spirit like a parent for a child. Billie Piper was the first in the modern era companions and pretty much re-set the mould for the companion by being a young woman who can be scared but isn't a traditional "screamer" companion and having an air of sexual awareness, such as in the scene where she discusses "dancing" with the Doctor. But it's John Barrowman in the role of Captain Jack Harkness who steals the show. As we've come to grow to like and know more about Jack's personal history through the main Doctor Who series and it's more adult spin-off, Torchwood, it's difficult to remember a time where Jack wasn't the hero, yet here he is - self serving, arrogant and unlike the Jack we know now who is eager to sort out problems, this Jack always looks to run away as far and as fast as he can. However, Barrowman plays the character with a charm which points to the character not as being as bad as he is apparently painted. The supporting cast is of an equally high standard most notably Florence Hoath as Nancy and a cameo by Richard Wilson (more known as Victor Meldrew in "One Foot In The Grave" and Gaius in the BBCs other major current fantasy property "Merlin") as Doctor Constantine. However, all the acting in the world cannot make a good TV programme on it's own, it needs a great script to back it up and, fortunately, the script for this two parter is written by current Doctor Who showrunner, Steven Moffat. Moffat's script is effective in using the ordinary and turning it scary. The idea is so simple, every child wants their mummy at some point, use this as a catchphrase for the "Empty Child" himself and then, to top it all off, have the alien plague infect adults in the same manner so that they behave like shambling zombies looking for their mummy and you get a terrifying concept with the idea of the loss of your personal identity. But an idea like this doesn't work on it's own, and Moffat uses the idea of secrets as being a background for this tale, whether it's Jack and his true origin as a man from the 51st Century, the hidden relationship between homeowner Mr Lloyd and the gentleman butcher which means he gets extra food on his table or Nancy and her true relationship to the "Empty Child", this story is as much built on the nature of secrets as it is about turning the ordinary scary. In fact, everything comes together - acting, script, direction, music and special effects to make this a great job all round. If you saw this when Doctor Who came back in 2005, treat yourself by watching it again... if you didn't and want to know what this Doctor Who fuss is all about, give this two part story a go.
Theta Sigma
Super Reviewer
Doctor Who: The Empty Child Quotes
There are no approved quotes yet for this movie.