Doctor X
(1932)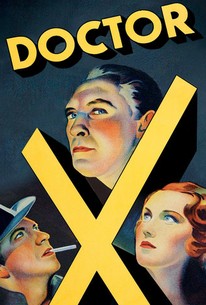 Movie Info
Fay Wray screams when she first lays eyes on Lionel Atwill in Doctor X, but don't let that fool you. Atwill plays Fay's father this time around, and he may very well not be the diabolical "Moon Murderer" whom the police are seeking. Dr. Xavier (Atwill) maintains a research lab in a remote Long Island estate. The police suspect that one of Xavier's assistants--all "second-chancers" whose previous misdemeanors range from botched experiments to cannibalism!--is the mysterious murderer who strikes only when the moon is full. Newspaper reporter Lee Tracy sneaks into the estate to get a swell scoop, whereupon he falls in love with Fay. In trying to help the authorities, Xavier stages an elaborate trap for the Moon Murderer, with his daughter as the willing bait. The killer (we won't tell you who it is, but you'll figure it out anyway) reveals himself by coating his body with "synthetic flesh", which gives him supernatural powers. Based on a play by Howard C. Comstock and Allen C. Miner, Doctor X was originally filmed in two-color Technicolor; available for years only in black and white, the film was restored to its full tinted state in the 1970s.
Critic Reviews for Doctor X
Audience Reviews for Doctor X
½
Oof. Not a good one, even for the camp value. The premise is interesting enough: a "Moon Killer" is on the loose, murdering and surgically cutting off portions of his victims. This leads police to Dr. Xavier and his assistants, all of whom become suspects, and the laboratories these men use have all the requisite special effects circa 1932. The biggest problem with the film is Lee Tracy, who plays a snooping newspaper reporter who clowns around, makes lame jokes, and repeatedly uses an asinine hand buzzer. The film is quite tedious to sit through, and several scenes seem elongated or 'filler' even for a total run time of 77 minutes. Another issue is that despite the use of darkness, shadows, and ominous faces, there really is no tension. The film is predictable and character motivations are absurd, so that even if you suspend disbelief and accept Dr. Xavier's theory about detecting the killer through an elaborate experiment measuring anatomical reaction, you still end up thinking, man, this is so stupid. At least I did anyway. I'm surprised others find it 'creepy' - even the slathering on of "synthetic flesh" does not produce a reaction of horror, as other great films in this genre will. Silly and annoying right up to that last scene at the end.
Antonius Block
Super Reviewer
This movie combines mad scientists and mystery movies, which makes for a very interesting movie.
½
There was a period of time between like 1929 and 1932 when the motion picture industry didn't really regulate what was going on in pictures, so there were a ton of flicks released that didn't really follow any sort of censorship clause. This movie is supposedly one of these movies. We have "Rape," "Cannibalism" and "Murder" all taking place in this movie that was made in 1932! So its kind of a horror in the fact that they have a creepy crazy psychotic doctor, stalking around killing a bunch of scientists! There is a ton of comedy in this movie too, that keep the audience hanging on. The real thing that is odd about this movie though is that it was part of a very rare form of filming where this movie from 1932 is in color. Not technicolor but actual colored film, very impressive for a flick of its age. I really enjoined this movie and the story was actually pretty good. The acting was terrible but other than that... Good movie. Dr. X is another movie that I heard of in that Rocky Horror Picture Show Theme "Science Fiction/Double Feature." The movie was in no way scary and this is a scary movie deal so I am going to have to give Dr. X a 5 of 10. It was a great try with really cool gimmicks but didn't cut the mustard scary wise. Dr. X will build a creature S!D
Brandon Siddall
Super Reviewer
Doctor X Quotes
There are no approved quotes yet for this movie.