The Doe Boy
(2001)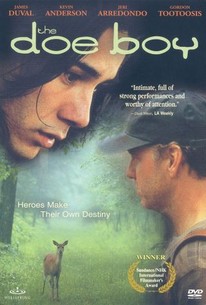 AUDIENCE SCORE
Critic Consensus: No consensus yet.
Movie Info
Hank Kirk (Kevin Anderson) is a Caucasian man who objects to his half-Cherokee son Hunter's (James Duval) tendency to believe the stories of his Native American grandfather. Hunter is a hemophiliac, which makes it difficult (and dangerous) for him to take part in the same outdoor activities that dominate his father's life, especially as his mother, Maggie (Jeri Arredondo), worries about her son and tries to keep him away from danger. As Hunter grows older, he feels the need to prove himself to his father despite his medical condition, but his father objects to the Cherokee method of hunting and insists that the boy hunt like a white man, by sitting by the side of the road with a gun and waiting for game to appear. When Hunter goes deer hunting with Hank for the first time, he mistakenly bags a doe instead of a buck -- a tremendous embarrassment for both Hunter and Hank, because the animal has no antlers to show off and thus is not considered a great catch. Humiliated, Hunter seeks the advice of his grandfather, Marvin Fishinghawk (Gordon Tootoosis), and finds love for the first time with a girl his age. The Doe Boy was the first feature film from writer and director Randy Redroad, which was based on his own experiences growing up in a Native American family; the film was shown in competition at the 2001 Sundance Film Festival.
Critic Reviews for The Doe Boy
All Critics (4) | Fresh (2) | Rotten (2) | DVD (2)
Doughy drama about a half-Cherokee youth (James Duval wearing Cher's wig from "Half-Breed") in search of his self-identity.
September 25, 2002 | Rating: 2.5/5
Audience Reviews for The Doe Boy
An amazing movie! Great story plot. Phenomenal cast. Here's a story about life, and transitional changes for a young man. Great music!!
The Doe Boy Quotes
There are no approved quotes yet for this movie.