Dog Eat Dog
(2016)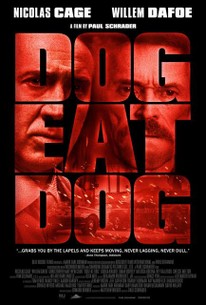 TOMATOMETER
AUDIENCE SCORE
Critic Consensus: Dog Eat Dog's refreshing bundle of quirks and surfeit of visual style aren't quite enough to compensate for an aimlessly forgettable story.
Movie Info
Legendary filmmaker Paul Schrader directs this "sordid and engaging crime drama" (The Hollywood Reporter) starring Academy Award (R) winner Nicolas Cage (Leaving Las Vegas) and Academy Award (R) nominee Willem Dafoe (Platoon). Ex-cons Troy (Cage), Mad Dog (Dafoe) and Diesel (Christopher Matthew Cook) are hired by an eccentric mob boss to kidnap a baby for a large ransom. When the abduction goes awry, the trio find themselves on the run from the mob and the cops. Vowing to stay out of prison at all costs, getting away with the crime is literally a matter of life and death.
Critic Reviews for Dog Eat Dog
Audience Reviews for Dog Eat Dog
An ultraviolent and vulgar dark comedy, Dog Eat Dog is an ugly mess. The story follows a group of smalltime Cleveland gangsters who try for a big score with a kidnapping, but things all fall apart. Nicolas Cage and Willem Dafoe lead the cast, but their performances aren't very good (Dafoe is particularly horrendous). And the directing is terrible, as none of the stylistic choices work, and the sets look cheap. Additionally, the sex and violence are incredibly gratuitous and makes the film feel dirty. Complete garbage, Dog Eat Dog is a pointless waste of time.
Dann Michalski
Super Reviewer
½
There are many words that you can use to describe this movie: violent, foul-mouthed, lurid, surreal, among many others. But you know what's one word you can't use for this movie? Boring. There is nary a dull moment in this movie a dull moment in every single frame of this movie. And, realistically speaking, that's really half the work right there. A movie that's boring is so much of a chore to sit through, to where if you stop it halfway, you might not ever be motivated to finish it. You don't have those problems with movies that are great or even if they're terrible. Not that you're motivated to watch terrible movies, but there's a certain morbid curiosity in seeing how worse the movie can actually become. In a movie that's great, well, you keep watching because you enjoy it. Duh. So, yes, I was quite motivated to keep watching this movie because I wanted to see what else they could throw at me. Whether it be from a visual or narrative standpoint. With all of that said, you might think that that means that I would say that this is a good movie or that I enjoyed it. And I am here to tell you that that would be a wrong assumption. This is not a good movie at all. There's certainly some elements that I enjoyed. For example, I thought Willem Dafoe and Nicolas Cage both gave good performances. Yes, Nicolas Cage is good here, even though there's some certain Cage-isms and his impression of Humphrey Bogart isn't great, but is oddly intriguing. By and large, though, Cage does do a good job at fitting in with the film's depraved and violent world. And he's good at these type of roles, if his performance in Bad Lieutenant: Port of Call New Orleans is any proof. But the fact of the matter is that the films attempts at showcasing depraved and violent content is really just a disguise for the fact that there's really interesting going on in the narrative. There's a few interesting elements, like how Mad Dog (Dafoe) attempts to atone for the mistakes he has made in his past, like murdering his girlfriend and her daughter in a brutal fashion. He wants to start over with a clean slate. No drugs, no senseless murdering, nothing. I found that interesting because, as if it wasn't obvious, Mad Dog is the most interesting character in the entire movie. There's nothing to boy Troy and Diesel. Troy is the leader and Diesel is just a fat Channing Tatum. There's nothing to either Troy or Diesel that isn't 'we just got out of prison and we need to take on whatever jobs' to stay afloat. This is where the movie reveals its plot, where Mad Dog, Troy and Diesel are hired to kidnap this kid. This is the big job. Prior to this, the three take on bit jobs that leave them with very little money to sustain themselves. This one will net them, each, $250,000. Naturally they're a little wary of taking the job, since kidnapping is serious business. But they go ahead and take it. Naturally, as if it wasn't obvious, things go wrong and they kill the guy that was actually gonna pay the ransom. This means that the guys won't get paid and they've pissed off the guy that hired them. But, you might think that this means they're gonna have to go against the guy that hired them. That's another wrong assumption as, realistically speaking, they face absolutely no consequences for fucking up the job. And the guy that hired Troy and his crew is out millions of dollars and yet he doesn't care one bit. So that was pointless. It's just used as a plot point to get to where Troy, Diesel and Mad Dog start imploding and they're all killed off. I'd say spoiler, but with this movie, you know the type of ending these characters are gonna get. The problem with the movie is that there's nothing in the narrative that holds your attention. It uses shock value in order to make up for the fact that there's no story or character development to speak of. There would be no problem with the more violent elements of the film if they supported a narrative that actually attempted to develop its characters instead of just being random and surreal for no reason whatsoever. They depend on a good cast to get them out of the hole they dig themselves in and, as good as the cast is, they're not miracle workers. They just dig too deep of a hole for themselves to get out of. And it's not even like the movie is bad, but it's one that would, and could, have been great with an actual focus on a real story and stronger character development than we got. I can't recommend this movie based on that, but it certainly won't bore you. Decent movie at best.
Jesse Ortega
Super Reviewer
Dog Eat Dog is about a trio of criminals (Nicholas cage, Willem DaFoe, and Christopher Matthew Cook) that are trying to get a big score. Their big score is kidnapping a baby. It goes down the toiler. Messy, so very messy. This film is an incoherent piece of trash. The plot is all over the place and leaves so much hanging out to no resolution. It's like a building that is midway through its demolition. Hallways lead to oblivion and pieces of junk just sticking here and there with no real purpose anymore. Junior high schoolers could write a better script than this. The stories that children develop when playing with a menagerie of action figures are better than this. I can't really say that the ending is satisfying because there is nothing satisfying in this film. It goes for a cheap shock to introduce the film and really just sits there spinning its wheels for the remainder of the film. The acting is hammy and over the top. Cage continues to bury his once great career in another garbage film with another garbage performance. He goes overboard ala The Wicker Man and does a terrible Bogart impression. Let this be a lesson to everyone out there to pay yout taxes or you'll have to be in crap like Dog eat Dog. Dafoe isn't as far down the shoot as Cage is career wise, but if he keeps appearing in films like this his legacy will be torched by the easy paychecks films like this must pay. He plays a parody of himself. It's a miserable experience because he doesn't really have anything to work with and an over the edge Dafoe isn't anything new. Been there and done that in much better films. The rest of the acting is pedestrian at best and does nothing to carry the film higher than mediocre. Finally we get to director Paul Schrader, a darling of cinema thirty years ago gives us a film that can really be summed up as a cliche of 1990's cinema. Most of the hip artistic tricks that he employs in this film were being used by Oliver Stone 20 years ago. Sorry Paul, but movies have grown past that, for better or for worse and in a better film they may have lent to telling the story more, but with Dog Eat Dog it just makes you want to watch Natural Born Killers. Schrader is another casualty in this "film". Dog Eat Dog really is a cliche. Acting, directing. Everyone does the typical stuff and delivers nothing beyond what they get paid for. To be truthful, the script is not a cliche. If it were this film may have been better. Average, but that would be better than what we have now. This film is written terribly at the expense of trying to be cool. It tries way too hard and falls right on its face. Not very cool. This film will be remembered for being horrible as it buries the three talents associated with it.
Chris Garman
Super Reviewer
Dog Eat Dog Quotes
There are no approved quotes yet for this movie.