Dog Park
(1998)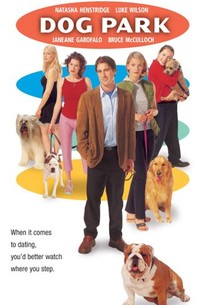 Movie Info
Former Kids In The Hall member Bruce McCulloch wrote and directed this comedy about the romantic tribulations of a group of Toronto twenty-somethings whose relationships with their dogs are more stable and long-lasting than their romances with people. Nice guy Andy (Luke Wilson) gets dumped by his girlfriend Cheryl (Kathleen Robertson) when she meets another man (Gordon Currie); worst of all, Cheryl also ends up with custody of Andy's dog. On the rebound, Andy meets Lorna (Natasha Henstridge), the host of a children's TV show, but she's too obsessed with her dog Peanut to pay Andy much mind. Keiran (Kristin Lehman), on the other hand, is a bit too enthusiastic for Andy, leading to yet another short-lived relationship. Cheryl ends up taking her dog (formerly Andy's dog) to a pet psychiatrist (Mark McKinney) who thinks that her promiscuity may be traumatizing the pooch. Meanwhile, Bruce McCulloch and Janeane Garofalo are cast against type as Jeff and Jeri, Andy's cheerful and annoyingly romantic friends. Although it was completed in 1998, Dog Park's U.S. release was delayed until September 1999 due to the film's sale to New Line Cinema; as a result, Bruce McCulloch's directorial debut hit theaters only a month before the scheduled release of his second film, Superstar.
Critic Reviews for Dog Park
Audience Reviews for Dog Park
When it comes to dating, you better watch your step.
A great movie! Hilarious! Interesting story plot about a guy who desires to seek a good relationship. Luke Wilson, Janeane Garofalo, and Natasha Henstridge are absolutely great. Fantastic movie!
½
One of the characters has this theory on relationships - something about not missing the chance to hook up when opportunity presents itself or else you will have to wait six weeks until the next set of breakups occur. This movie is about different relationships with the dog park as the thread that ties the story together.
Dog Park Quotes
There are no approved quotes yet for this movie.