Dog Pound
(2010)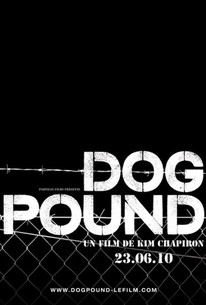 Movie Info
Angel, 15 years old (recidivist): assault and auto theft. Davis, 16 years old: possession of narcotics with intent to resell. Butch, 17 years old: assault on a correctional officer. The three are taken to Enola Vale Youth Correctional Center in Montana and placed under the authority and watch of Officer Goodyear, a strict but caring guard. Butch faces the prospect of adult prison and tries to keep a low profile... until he and Davis become the subject of ruthless assaults by another inmate, Banks. Returning from solitary after they refused to rat Banks out, Butch challenges his attacker as the top dog. Like a bunch of strays locked up in the pound, the young men struggle to keep their bodies and spirits intact, but each act of violence swells ever more forcefully. (c) Tribeca Film
Critic Reviews for Dog Pound
Audience Reviews for Dog Pound
½
A well-meaning but ultimately disappointing and hollow take on a juvenile center focused around the lives of three boys recently put into the system, and what they experience during their time there. For the first half of the film, it is surprisingly gripping and realistically filmed and plotted. However, in the second half of the movie it veers left into "melodrama" territory, where you hardly start to believe anything that is happening and the story takes its lenses off of the boys in the facility and instead makes a hail-mary middle-finger attempt at the correctional officers. The acting is pretty good, about what you would expect for an indie film. In the end though, there are just too many scenes that feel fake and forced, not to mention pretty predictable, and the film never seems to decide what it wants to be truly about anyways.
Dan Schultz
Super Reviewer
½
While the movie is certainly made up of familiar parts, there's a little Shawshank Redemption, Bad Boys (Sean Penn movie), and pretty much every 'jail' trope in existence, this film is a pretty damn good movie. It has good writing and a damn good cast. I don't think it manages to set itself apart from other films of this ilk, but it is more than solid. Thankfully the movie isn't AS serious as some of its contemporaries as it sees this group of four boys befriend each other and how their friendship makes life in this institution a little easier. If there IS a problem with this is that, out of nowhere, these 4 boys are friends. Butch, Davis, and Angel all come into the institution on the same day, but it wasn't implied that they were friends. So they start off their time in this institution having nothing to do with the other. Then there's this sequence where three of them end up in solitary for different reasons. After they get out of solitary they're, magically, friends. There was like an important chunk of the movie missing, because there was nothing that would lead you to believe that they've become friends, well other than the movie telling you they are. That was definitely a problem to me, because this is the most important element of the film...this friendship between these kids. As mentioned, the film is sort of mired in formula and I do think that some of the events in the film were probably too 'tragic' for their own good. I also liked the way the film was shot, I think it gave it a credible and more realistic look. I don't wanna see a documentary style, but more realistic than your typical movie. Not much else to say, a movie that's showered in formula, still damn good with some great performances and a believable look at these kids' lives and how the institution helps them become closer to each other.
Jesse Ortega
Super Reviewer
My predicted rating: 2.5 I'm not sure if this has any official announcement to say that this is a remake of the film "Scum', but there is no doubt that that is the case. A modernised correctional facility in America provides the backdrop to this tale. Bear with the beginning, the performances come across a little amateur, but that seems to grow through with the storyline. It's not a patch on the original, however the violence shown has excalated and you do get the sense of fear from this film.
Lady D'arbanville
Super Reviewer
Dog Pound Quotes
There are no approved quotes yet for this movie.