Dog Soldiers
(2002)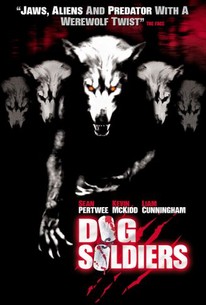 TOMATOMETER
AUDIENCE SCORE
Critic Consensus: Frightening, funny, and packed with action, Dog Soldiers is well worth checking out for genre fans -- and marks writer-director Neil Marshall as a talent to keep an eye on.
Movie Info
British director Neil Marshall's directorial debut Dog Soldiers resurrects and embraces the low-budget horror-comedy. Sergeant Harry Wells (Sean Pertwee) leads a team of British soldiers on a routine expedition to the Scottish Highlands. The six men would rather be at home watching the game, but they are even more dismayed when a carcass lands on their campfire. The next morning, they happen upon a severely injured Captain Richard Ryan (Liam Cunningham) and the bloody remains of his squadron. Soon they are attacked by giant werewolf beasts and chased through the woods, only to be saved by zoologist Megan (Emma Cleasby), who explains some of the truth about the creatures. They all take refuge in an old farmhouse while the threat of the monsters looms increasingly heavy.
News & Interviews for Dog Soldiers
Critic Reviews for Dog Soldiers
Audience Reviews for Dog Soldiers
Low-budget gold is what you can call this film. After a group of military finds themselves running from creatures in the woods, it eventually leads to them surviving in a home. That is the basic plot of this film, and while it is nicely executed, it can't help but feel it's run time. For a film that only clocks in at about 105 minutes, that is not the greatest statement. With a fine cast lead by Sean Pertwee, the slow character moments sitting by a campfire or when they are moments away from battle are really what make you care about this film at all. The action is fun and the cast is enjoyable, making "Dog Soldiers" a good film, but nothing I want to revisit anytime soon.
½
Could this be the British werewolf equivalent of 'Aliens'? a group of soldiers forced into a tight space, trapped and being taken down one by one, it does feel like it when you watch. But lets not take anything away from this film, its a low budget basic thriller which works beautifully utilizing all the right tricks in the book. The werewolves are kept out of sight for much of the time, lots of shadows and darkness, a good barren wilderness location, tense sweaty and claustrophobic with some good amounts of gore, not overblown. Marshall really has taken a leaf outta Cameron's book, a leaf? nay...a whole flippin' bush! as previously said the film really is 'Aliens' with werewolves but its so damn fun to watch (and British made) that you have to forgive the blatant concept rip off. The small group of soldiers really work well together and you do care for them as Marshall wisely builds the characters before hand, you know they're all gonna die but never sure which one will remain in tact at the end. Of course everyone is rather cliched and predictable with their dialog and portrayals, Cunningham is the nasty outsider (Burke) who obviously will die but calmly growls and snarls his lines of doom to the rest in the mean time...just asking for it really. Some brilliant sequences that go from outright horror to dark gallows humour such as Pertwee having his bowels/intestines super glued back inside him after a nasty attack. Things get quite tense towards the end as the lycans get too close for comfort and we start to see more glimpses of the pretty solid effects used. Men in suits of course, they do look original in design but a little like overgrown Alsatians with hairless bodies. Some good mechanical mask work but again they don't actually look overly ferocious or scary to me, I really didn't like the hairless muscular body idea. The werewolf vision was pretty neat though, not exactly original these days but at the time it was sweet. A simple steadicam with a wide angle and a slightly undercranked film speed gave a decent eerie beast-like POV. Its gritty dirty bloody basic effortlessly British, has a cool movie poster and you want Cunningham to die right from the very start after he kills that poor doggie. At times it does feel like it could use a bit of Hollywood sheen to really make more of an impact for some sequences and the score seems a tad lackluster. Overall this is a great human vs werewolf flick that really does show what 'Underworld' could of been.
Phil Hubbs
Super Reviewer
A classic. An explosive and heart-pounding horror film debut by Director, Neil Marshall. A real triumph in the genre. It`s Predator meets Night of the living dead with Werewolfs. A blood-pumping and hair-raising thrill-ride from start to finish. It has a solid story thats packed with strong characters, development and non-stop suspense that keeps you going until the end. Sean Pertwee, Liam Cunningham and Kevin Mckidd give strong and terrific performances. One of the best horror films i have seen in some time. It`s extreamly entertaining and totally enjoyable.
Dog Soldiers Quotes
| | |
| --- | --- |
| Megan: | (describing the werewolves) Every month, when the moon is full, they hunt as a team. Dedicated to the kill. During that time, at least fifteen people have vanished. Hikers mostly. In small groups or alone. They're caught out in the open, hunted down, torn apart and devoured. I've never witness the actual slaughter, but the next day, no bodies, no werewolves, just blood. |
| Megan: | Every month, when the moon is full, they hunt as a team. Dedicated to the kill. During that time, at least fifteen people have vanished. Hikers mostly. In small groups or alone. They're caught out in the open, hunted down, torn apart and devoured. I've never witness the actual slaughter, but the next day, no bodies, no werewolves, just blood. |
| | |
| --- | --- |
| Terry Milburn: | (after attacking the werewolves) Dogs. More like pussies. |
| Terry Milburn: | Dogs. More like pussies. |
| | |
| --- | --- |
| Megan: | What happened? |
| R/man Phil Witherspoon: | What happened? We were attacked by huge fuckin' howlin' things, that's what. |
| | |
| --- | --- |
| Sgt. Harry Wells: | I am not breaking radio silence just cos' you lot got spooked by a dead flying fucking cow! |