Doghouse
(2009)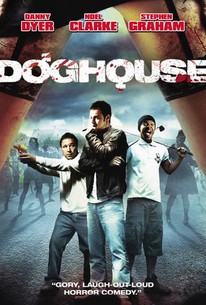 Movie Info
This British horror comedy concerns a group of men suffering from midlife crises, who embark on a relaxing country weekend but wind up in a village overrun by psychotic and cannibalistic female creatures. ~ Nathan Southern, Rovi
Critic Reviews for Doghouse
Audience Reviews for Doghouse
½
A group of Londoners go on a "lads only" trip to a remote village only to find that the entire female population have become flesh eating monsters and murdered all the men. I'd like to nominate Jake West for a long, slow hand clap because this is the second of his films I've seen and the second that's one of the most immature, amateurish piles of crap I've ever witnessed. I think you can tell from the synopsis and the presence of rent-a-geezer Danny Dyer and Stephen "Combo" Graham exactly which bandwagon this film is trying to jump on (although the "plot" is clearly a dim-witted regurgitation of Dog Soldiers), but thanks to some terrible direction, awful performances and an utterly witless script it falls well short of becoming even a pale shadow of Simon Pegg's much loved celebration of schlock. It's surely one of the most misogynist films I've ever seen as all the living women are nothing but shrieking shrews who do nothing but complain (they obviously just don't understand "ver lads") and the undead ones a bunch of strippers with cerebral palsy in feeble Halloween costumes. And no amount of so-called irony can disguise the attitude of a film that contains the line "I'm going to go down there...and bash the shit out of anything in a dress". Not only did I not laugh during the entire length of Doghouse, I didn't even crack a smile. Doghouse is nothing but Shaun Of The Dead for Sunday Sport "readers".
½
Stupid and silly, but I have to say that I laughed out loud...a lot. Soooo, extra credit for that.
Cynthia S.
Super Reviewer
½
The strength is in the makeup and special effects. The weakness is in the story subtext (and often blatant dialogue) about sexgender and how the zombie apocalypse could possibly serve as a solid ground for dealing with issues of gender performance inadequacy (on part of all of the men characters). Overall, entertaining, but like most zombie flicks, don't go looking for depth.
_kelly .King
Super Reviewer
Doghouse Quotes
There are no approved quotes yet for this movie.