Dogma
(1999)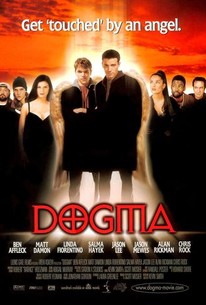 TOMATOMETER
AUDIENCE SCORE
Critic Consensus: Provocative and audacious, Dogma is an uneven but thoughtful religious satire that's both respectful and irreverent.
Movie Info
The latest battle in the eternal war between Good and Evil has come to New Jersey in the late, late 20th Century. In what can only be deemed a comedy parable, two renegade fallen angels attempt to jerry-rig the entire cosmological system -- unless a rag-tag group of humans can stop faith. Bethany, the heroine of DOGMA, is a woman who feels her prayers haven't been answered when, out of nowhere, a heralding angel appears in her bedroom and declares her the potential savior of humanity. This abrupt meeting sets her off on an extraordinary journey of mystery, comedy and suspense as she is transported to a fantastical world of celestial characters and spirited adventure. Along the way she will meet up with a heaven-sent messenger, an apostle with a 2,000 year old beef, a hotheaded demon, a heavenly Muse and two unlikely Prophets known as Jay and Silent Bob as they each discover the power of their own individual faith.
Audience Reviews for Dogma
I love the way Smith pokes fun at religion. He just turns stuff around and throws it back at ya'.
[img]http://images.rottentomatoes.com/images/user/icons/icon13.gif[/img] I love Kevin Smith correction I admire him, but this is without any doubt Kevin Smith's worst film. Dogma is overlong, very annoying and despite the usually comedic cast was just plain dull. I think the characters of Jay and Silent Bob are hilarious but the film around them just didn't work. The movie is a sucker for product placement and is essentialy a huge series of recycled jokes. Smith deserves praise for small pieces of inspired black comedy and a radical attempt at being funny without being offensive but it doesn't have any taste or any consistent tone. For about half of the movie it's got characters explaining stuff to the other characters about the plot. There's too much unfunny dialogue and consequently it's just plain boring and not funny at all. I laughed out loud once, and that was seeing Silent Bob fight for a dance at a strip club but apart from that I was very very bored.
Directors Cat
Super Reviewer
It's really hard to satire religion yet stay respectful of the religion. But this film does it. Kevin Smith is one of my favorite comedic writter/directors of our time and this film is a perfect example of his art. This is one of the only films I can stand Ben Affleck. Matt Damon should do more comedies like these. And for God sake please make another Jay & Silent Bob film please!!!
Joshua Wilburn
Super Reviewer
Dogma Quotes
| | |
| --- | --- |
| Bartleby: | last four days on earth, if I had a dick I'd go get laid. |
| Loki: | we'll do the next best thing, lets kill people |
| Loki: | oh,not you. |
| | |
| --- | --- |
| Jay: | Yo man, tell me something about me. |
| Rufus: | You masturbate more than anyone on the planet. |
| Jay: | Aw fuck, everyone knows that. Tell me something nobody knows. |
| Rufus: | When you do it, you're thinking about guys. |
| Silent Bob: | !!!! |
| Jay: | Dude, not all the time. |
| | |
| --- | --- |
| Loki: | The major sins never change. |