A Dog's Breakfast
(2007)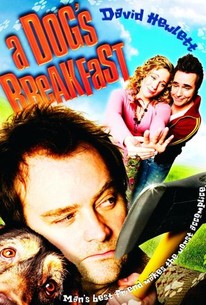 AUDIENCE SCORE
Critic Consensus: No consensus yet.
Movie Info
In this offbeat comedy - a U.S./Canadian co-production - Patrick (David Hewlett) is an eccentric and socially inept man who lives alone in his parents' rural Washington state house with just his pet dog, Mars, for company. One of the few members of his family who shows much concern for him is his sister Marilyn (Kate Hewlett, David's real life sibling), and he's delighted when she stops by to pay a visit - a little too delighted, as he feels extremely possessive of her on an almost unhealthy level. Marilyn works as a make-up artist on a science fiction television series, and accompanying her is her fiance, the genial actor Ryan (Paul McGillion) -- a cast member on the same series. Despite Ryan's attempts to get off on good footing, Patrick immediately starts scheming and plotting the young man's murder, but he botches the majority of attempts and frequently only succeeds in injuring himself. When Ryan accidentally dies, Patrick realizes that Marilyn will inevitably blame him for it and read the death as deliberate. He buries the body and cooks up some phony reasons for Ryan's disappearance; problem is, the corpse mysteriously keeps getting exhumed - or does it? It isn't quite clear if what is happening is actually happening or if Patrick is merely hallucinating. Leading man David Hewlett made his directorial debut with A Dog's Breakfast, in addition to writing the film's screenplay.
Critic Reviews for A Dog's Breakfast
All Critics (1) | Fresh (1) | Rotten (0)
A brutally funny and wickedly smart mix of pitch-black comedy and insane screwball farce... Unquestionably one of the best direct-to-video releases of the year.
Audience Reviews for A Dog's Breakfast
½
When Patrick decides to knock off his sister's fiancé he inadvertently turns the family home into an inept house of horrors. Amateurish but buoyed by David Hewlett's hysterical performance.
Randy Tippy
Super Reviewer
Cleverly shot, technically sound, but way too silly. Most of the plot, dialogue and jokes are predictable and broadcast way in advance. My last watch/review was also a dark comedy, Just Buried, and this one reminds me what an average flick is and makes me appreciate that one all the more. I guess a good analogy is, there isn't enough "bang for the buck." There isn't enough return for all the liberties and steps they took with the storyline. They'd have been better off going a bit more extreme if nothing was going to come as a surprise. I'm surprised by the high ratings this movie is getting here and elsewhere. Is there a fanboy appeal in one of the characters from some other show/movie? I just don't get it. This isn't a BAD movie, but most of it's success comes from the creative filming and the story leaves a lot to be desired.
Nick Grimm
Super Reviewer
A moderately amusing and fairly brisk dark comedy.
William Goss
Super Reviewer
A Dog's Breakfast Quotes
There are no approved quotes yet for this movie.