Dollman vs. Demonic Toys
(1993)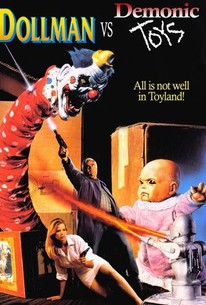 AUDIENCE SCORE
Critic Consensus: No consensus yet.
Dollman vs. Demonic Toys Photos
Movie Info
Full Moon Entertainment -- Charles Band's direct-to-video outfit -- tosses together elements from three of its film franchises for this loopy mix & match item. Tracy Scoggins returns as tough cop Judith Grey, who must confront the lethal, wise-cracking terror toys again when they reappear at the same defunct warehouse. When the toys' lecherous leader Baby Oopsy-Daisy kidnaps the diminutive nurse Ginger (reduced to 11 inches by the crazed alien villain of Bad Channels), Judith seeks the aid of Ginger's similarly-statured boyfriend, Dollman Brick Bardo (Tim Thomerson, a Charles Band fave), to rescue her and fight the mini-monsters on their own turf. Fun on its own merits, especially if viewed as a crossover comic book; indeed, Full Moon Comics has published a "Dollman" series as well. Band also deserves some credit for the sheer audacity of pulling this thing off -- given the ludicrous story elements -- and for keeping the weirdness zipping along at a brisk pace and breezy one-hour running time.
Critic Reviews for Dollman vs. Demonic Toys
All Critics (3) | Fresh (0) | Rotten (3)
Provides many of the same laughs (unintentional for the most part), based on the return of the senselessly evil possessed toys.
Overuse of flashbacks, lousy special effects, bad acting and a campy plot
Audience Reviews for Dollman vs. Demonic Toys
Suppose to have been the first 'vs.' film made so really this film is a groundbreaker if we are honest about it. Its a very silly premise of course and the back story behind it is muddled. Basically this is the sequel to 'Bad Channels' 'Dollman' and 'Demonic Toys' all at once which in itself is pretty impressive and unique, but alas they screwed up the continuity badly by making 'Nurse Ginger' as the sidekick from 'Bad Channels' when it should of been 'Bunny'. That aside this is actually good fun and continues the cult craziness of the previous films with the added bonus of Thomerson back as Dollman. Most of the film is filled with flashbacks unfortunately which does take up time and seeing as the film is one hour!!, you can tell they struggled to fill out the plot. Effects wise its about on par with the other films accept this time we have life size Demonic Toys going up against 'Brick' which doesn't look too bad really. The fact they are real models using stop motion makes all the difference which would be lost using CGI. Its actually the big in your face models and puppets that make this film enjoyable, utterly farcical but fun, kinda like a fairground ride in the funhouse. You could almost say its a low budget modern day Harryhausen homage flick...almost. Gotta give kudos for imagination, absurdity and the balls to actually make something so zany.
Phil Hubbs
Super Reviewer
This is not as good as most of the demonic toy films, My introduction to doll man and his female counterpart ( WOWWOW). If this was the first movie I ever seen with the Demonic Toys I more then likely would not watch another one, film was cheaply made. The Movie itself is Dollman going into a partnership with a life-size female cop who is about washed up, so they team up to destroy the Demonic Toys. Hate the Baby but Love the clown. 3 stars only on this one.
Bruce Bruce
Super Reviewer
A better sequel was deserved for both Full Moon franchises. This was a cheap under 1-hour running time. Half of it was Dollman hooking up with a miniature sexy lady from "Bad Channels". When they finally met up with the Demonic Toys, it was one quick battle. The killer teddy bear from "Demonic Toys" was gone and replaced with a plastic army guy. Disappointing.
Lafe Fredbjornson
Super Reviewer
Dollman vs. Demonic Toys Quotes
There are no approved quotes yet for this movie.