Dolores Claiborne
(1995)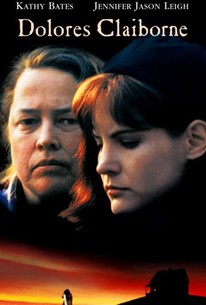 TOMATOMETER
AUDIENCE SCORE
Critic Consensus: Post-Misery Kathy Bates proves to be another wonderful conduit for Stephen King's novels in this patient, gradually terrifying thriller.
Movie Info
A daughter who has come to imagine the worst about her mother learns the facts are quite different -- and more shocking than she ever imagined -- in this adaptation of Stephen King's best-selling novel. Dolores Claiborne (Kathy Bates) has spent nearly a quarter of a century looking after a mean-spirited woman named Vera Donovan (Judy Parfitt) on a small island off the coast of Maine; when Vera is found dead after falling down a flight of stairs, Dolores is considered a prime suspect in her murder. Word of the affair reaches New York-based journalist Selena St. George (Jennifer Jason Leigh), Dolores's estranged daughter. Though she's about to leave on an important assignment, Selena instead flies to Maine to find out what's happened with her mother. Selena's father, Joe St. George (David Strathairn), died under mysterious circumstances 15 years before; more than a few people believe Dolores killed Joe, and many feel she did the same with Vera. Though the strong and tough-talking Dolores stands her ground, police detective John Mackey (Christopher Plummer) is convinced that there's more to her story than she's letting on, and in time Selena learns the ugly truth about her mother's connection to both deaths. This was Kathy Bates's second starring role in a film based on Stephen King's work; she earned an Academy Award for her breakthrough role in the movie version of King's Misery.
News & Interviews for Dolores Claiborne
Critic Reviews for Dolores Claiborne
Audience Reviews for Dolores Claiborne
A rather untypical Stephen King story, although some of his regular motifs return, was turned into one of the best adaptions of his books. Set in the grey, gloomy, yet beautiful images of the present, as a daughter returns home for her mother's murder trial as well as the colorful, warm colors of the flashbacks, where we learn about their past and the fate of their husband and father, the story is carried by its strong characters and the great acting. Although the film consists mostly of conversations and moves rather slowly, it is still gripping and captivating in every moment, the solution and flashback showdown during the total eclipse of the sun are particularly exciting. A moving, very entertaining drama. Sometimes being a bitch is all a woman has to hold on to.
Constable: Going on a morning walk? Dolores Claiborne: No, I'm just packing the get-away boat, so I can make my great escape. Dolores Claiborne is a good drama from Stephen King that translates well to the screen. Kathy Bates gives a great performance as Dolores; a woman who is a suspect in a murder investigation. Jennifer Jason Leigh plays her daughter who has been gone for 15 years. A great supporting cast features Christopher Plummer, John C. Reilly, and Eric Bogosian(the guy from one of the most underrated films of all-time, Talk Radio). Danny Elfman gives the film a great score like always. It always makes me laugh when people complain about Stephen King books not being good movies. There's been Shawshank, The Green Mile, The Dead Zone, 1408, The Shining, Misery, Stand By Me, Carrie, Christine and Dolores Claiborne. Looks like they translate well.
Melvin White
Super Reviewer
A shocking drama from King, about a mother and daughter and a secret. I was pleasantly surprised by this movie, and I think you will be too. I highly recommend it.
Dolores Claiborne Quotes
| | |
| --- | --- |
| Dolores Claiborne: | Are you saying there's nobody? |
| Selena St. George: | No, I'm saying there's a whole lot of nobodys! |
| | |
| --- | --- |
| Vera Donovan: | Husbands die every day. Why, there's probably one dying right now while you're sitting here weeping. They die, and leave their wives their money. I should know, shouldn't I? Sometimes they're driving home from their mistress's apartment, and their brakes suddenly fail. An accident, Dolores, can be an unhappy woman's best friend. |
| | |
| --- | --- |
| Vera Donovan: | Sometimes, being a bitch is all a woman has to hold on to. |