Domino
(2005)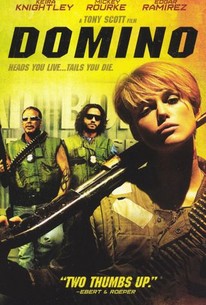 TOMATOMETER
AUDIENCE SCORE
Critic Consensus: The life story of model-turned- bounty-hunter Domino Harvey struggles to get out of this overwrought and excessive biopic.
Movie Info
The daughter of respected actor and matinee idol Lawrence Harvey, and model-turned-socialite Sophie Wynn, Domino Harvey was born into a life of wealth and privilege -- a lifestyle that did not interest her. Even from her earliest years, Domino rebelled against convention and the jet set. When Domino was only eight, her beloved father passed away and her mother looked to the stability of boarding school in a misguided attempt to tame her wild child. But nothing could repress Domino's fiery nature -- not friendships, not school, not her mother's high society. Even the extraordinary excesses paraded before her during a brief stint at modeling paled in comparison to her own escapades. Not until she stumbled upon a job seminar recruiting aspiring bounty hunters was her thirst for excitement at long last quenched. To Sophie's horror, Domino not only fell in love with the job but also with her fellow adventurers, who over the years would become her family.
News & Interviews for Domino
Critic Reviews for Domino
Audience Reviews for Domino
½
Tony Scott brings the "flare" in Domino, but ends up burning it down instead of lighting it up.
The story does have its points of interest thanks to some minor, although predictable, twists and turns. Unfortunately, the film is a bit elongated at 2 hours and the stylized nature of Tony Scott completely outshines anything this picture has going for it. The director's stamp seemingly ends up on nearly every shot; however, this stamp isn't enjoyable to look at. At some points, it's like watching a poorly edited music video.
Even the action and violence gets clouded by the visual prowess of Scott. Once again, this is a shame since bounty hunting is an integral piece of the story.
Keira Knightley is enjoyable to witness as this type of character. It's just too bad that none of the characters, even Knightley's, are likable. There are a number of recognizable faces amongst the cast, which end up as wasted talent.
Regardless of the cast and story, Domino is film that divides the audience with its approach. It's a 50/50 chance whether or not this will end up as a recommendable movie.
this remains the worst movie i have ever seen, even if jon loved it.
Jason Robinson
Super Reviewer
If you're looking for one of Tony Scott's worst films, then your best bet is watching Domino, a fictionalized film about real life bounty hunter, Domino Harvey. The film had potential of being something cool, and hype. But Tony Scott's style of filmmaking is overused to the fullest here, and it's very irritating for the eyes. Starring Keira Knightley, Mickey Rourke and Edgar Ramirez, Domino is an over the top action film with headache inducing cinematography this film tried to be Natural Born Killer, but it failed. The performances on screen suffer because of a bad script, and it shows. The film is laced with bad dialogue, half assed action scenes that are very noisy, it feels almost as if Michael Bay directed this. Tony Scott has used to the same style of cinematography for plenty of his previous works and a bit for his most recent one, Unstoppable, but man did he go over board with Domino. The story is all over the place, and the film, though stylized, ends up being a failure due to a bad story, bad character development and over used cinematography that really does confuse the viewer. Domino could have been a terrific film, but every element in the film seems out of place, and just feels cheap. Domino is a bad stylish film that is somewhat entertaining, but very, easily forgettable. One of Tony Scott's worst.
Domino Quotes
| | |
| --- | --- |
| Domino Harvey: | If you're wondering what's true and what isn't you can fuck off, because it's none of your goddamn business. |
| | |
| --- | --- |
| Domino Harvey: | Sometimes a girl has to be naughty in order to get herself out of a jam. |
| Domino Harvey: | Sometimes a girl has to be naughty in order to get herself out of a jam. |