Dona Flor e Seus Dois Maridos (Dona Flor and Her Two Husbands)
(1976)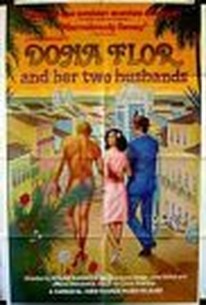 Movie Info
Based on the novel by Jorge Amado, this Brazilian comedy follows the strange events that befall Doña Flor (Sonia Braga) after she is left a widow by the death of her wild, irresponsible husband. (He died after another wanton night of carousing) Attempting to marry more wisely the second time around, Doña Flor weds a stable, but boring, pharmacist who has no interest in sex. When she discovers that her new sex life is less than satisfying, Doña Flor is visited by the sexy ghost of her late husband. This film is in Portuguese with English subtitles. ~ Iotis Erlewine, Rovi
Critic Reviews for Dona Flor e Seus Dois Maridos (Dona Flor and Her Two Husbands)
All Critics (5) | Top Critics (1) | Fresh (4) | Rotten (1)
It's a slight work, slackly directed, that gets a needed boost from Braga's endearing performance and Chico Buarque's intoxicating score.
You can see why the film took off the way it did, titillating arthouse audiences with its exotic earthiness and naughty humor.
Audience Reviews for Dona Flor e Seus Dois Maridos (Dona Flor and Her Two Husbands)
½
Even with a farcical charm of its own, this is a terribly unfunny comedy that suffers from a complete lack of wit and pacing, taking too long to establish its premise by spending a lot of time on an unnecessary flashback in its first hour that doesn't have much to offer.
Carlos Magalhães
Super Reviewer
Baseado na obra literária de Jorge Amado, Dona Flor e Seus Dois Maridos de Bruno Barreto é certamente a obra mais popular do cinema brasileiro até a retomada dos anos 90. Lançado em 1976, o filme atraiu aos cinemas nacionais mais de 12 milhões de espectadores (ainda o filme nacional mais assistido), tendo ainda uma vida posterior de sucesso nos cinemas internacionais (o filme fez de Sônia Braga uma estrela nos Estados Unidos). Talvez uma das principais chaves desse sucesso seja que Barreto soube ir ao encontro de um público ainda oprimido pela ditadura militar, necessitado de ver cores e sensualidade na tela, mesmo que a atual realidade fosse totalmente adversa. Ao contrário de filmes de cineastas como Glauber Rocha e Ruy Guerra, Dona Flor não exige maiores esforços intelectuais para ser apreciado. Era basicamente o filme que o público queria ver: uma obra descompromissada cuja maior função é o entretenimento, e ainda acompanhada de sensuais cenas de uma Sônia Braga em sua melhor forma. O filme tem início no carnaval de 1943, onde Vadinho (José Wilker), um incorrigível mulherengo e apostador, morre repentinamente, deixando para trás Flor (Sônia Braga), sua desconsolada mulher. Apesar das escapadas diárias de Vadinho e das freqüentes discussões, Flor era uma esposa dedicada e apaixonada, sendo que o casal tinha uma vida feliz na cama. Sozinha, ela acaba se envolvendo e logo depois se casando com Teodoro Madureira (Mauro Mendonça), o farmacêutico da cidade. Flor encontra no novo companheiro o marido fiel que nunca encontrou em Vadinho, e passa a ter uma vida estável e aparentemente feliz, mas da qual ela logo se cansa. Flor sente mesmo falta é do prazer carnal e do relacionamento imprevisto que tinha com o antigo marido e, de tanto chamá-lo em pensamento, Vadinho um dia aparece nu em sua cama, sendo que apenas Flor pode vê-lo. A moça se sente então dividida entre os dois homens, não querendo trair aquele que lhe dá tanto amor e não querendo resistir ao que lhe dá prazer. Como o enredo do filme já pode deixar claro, Dona Flor e Seus Dois Maridos é o que podemos chamar de um exemplo do cinema escapismo, não devendo ser necessariamente avaliado pela sua profundidade ou pela significância de sua história. É um filme produzido simplesmente com o intuito de divertir seu público, e este é um papel que a obra exerce bem. Dona Flor é protagonizado pela figura do adorável vagabundo, um sujeito que, apesar de seu caráter duvidoso e do como destrata a heroína, consegue ganhar a simpatia do espectador com seu infame "jeitinho brasileiro" de levar a vida. Flor, a personagem mais complexa da história, representa a boa moça que é recatada por fora, mas que arde em chamas por dentro. Ela quer a estabilidade de uma vida conjugal, mas também não consegue abrir mão dos prazeres da vida carnal. Flor precisa dos dois maridos para a completarem e, assim, satisfaz os dois pólos opostos de sua personalidade. As ótimas atuações contribuem imensamente com a caracterização dos personagens, com o trio de protagonistas sendo o maior destaque (e ao contrário de alguns dos filmes que faria depois, aqui Sônia Braga pode mostrar que seu trabalho não se resumia apenas a mostrar seu belo corpo). O diretor Bruno Barreto mostra seu talento para contar histórias ao optar por escolhas narrativas que fogem do que poderia se tornar banal nas mãos de outro diretor. A morte de Vadinho, por exemplo, é mostrada logo no início do filme, e sua relação com Flor é vista através de um flashback. Criando uma expectativa crescente em relação ao personagem, antes da apresentação de Vadinho escutamos as divergentes opiniões em relação a ele das pessoas que o cercavam (em um início que lembra o prólogo de Lawrence da Arábia de David Lean). O filme apresenta uma de suas maiores falhas no terceiro ato quando, após algumas cenas com o ritmo mais lento, parece querer apressar a história para chegar logo a sua conclusão, o que acaba prejudicando o maior fio narrativo da obra (a relação de Flor e o fantasma). Vale notar que, apesar da fama adquirida por Dona Flor e Seus Dois Maridos por suas provocantes cenas de sexo, Barreto consegue equilibrar bem a linha entre a comédia e a pornochanchada, sabiamente escolhendo dar maior destaque ao humor do que ao sexo, contrariando a política do cinema brasileiro da época. Uma polêmica que cercou o filme entre os cineastas da época foi seu elevado orçamento 5,5 milhões de cruzeiros, cerca de dez vezes mais que o orçamento padrão para um filme brasileiro da época. Enquanto muitos produtores não conseguiam a verba necessária para a produção de seus filmes, Bruno Barreto conseguiu do Estado o financiamento para fazer um filme milionário, algo que não foi bem aceito entre outros diretores brasileiros. O público, no entanto, certamente parece não ter se importado.
Matheus Carvalho
Super Reviewer
Ã"timo filme, um grande roteiro e uma boa direção
Lucas Martins
Super Reviewer
Dona Flor e Seus Dois Maridos (Dona Flor and Her Two Husbands) Quotes
There are no approved quotes yet for this movie.