The Donner Party
(2009)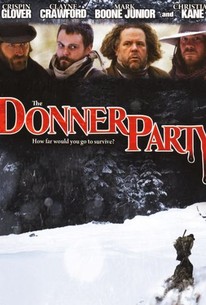 AUDIENCE SCORE
Critic Consensus: No consensus yet.
Movie Info
A group of American emigrants en route to California are forced to resort to cannibalism after becoming stranded in the Sierra Mountains in this historic docudrama inspired by the harrowing true story. Excited at the prospect of beginning a new life in a new land, a group dubbed "Forlorn Hope" makes their way west under the guidance of William Hastings. When Hastings suggests that the group could save a significant amount of time by cutting though the Sierras, they follow his lead to tragic results. As blinding snowstorms steer leaders William Foster (Crispin Glover) and William Eddy (Clayne Crawford) hopelessly off course, the group slowly realizes that they have become stranded in the wilderness with no shelter and dwindling food supplies. With starvation setting in and the prospects of rescue looking bleak, the group makes the gruesome decision to sacrifice a few for the survival of many - a choice that will forever haunt them once they return to civilization and the grim reality of their struggle sets in.
Critic Reviews for The Donner Party
There are no critic reviews yet for The Donner Party. Keep checking Rotten Tomatoes for updates!
Audience Reviews for The Donner Party
½
I still remember a time when Crispin Glover was one absolutely HORRENDOUS actor. Here's an example of how bad he was. He was by far the worst actor in the 1986 movie River's Edge. Keanu Reeves was in River's Edge as well. Think about that shit for a second...just THINK about it. He was so bad in that movie. Thankfully he's improved to the point where he's actually a really good actor. Not an all time great or anything, but he's good at these oddball roles that he often gets. In fact he's the highlight of this otherwise uninteresting movie. Like the movie just STARTS and the characters are already fucked. There's absolutely no part of their journey to see how they GOT to the situation they're at. They're just there already and it feels weird because it comes across like they think we're supposed to know everything that happened until this point. So we start off the movie on the wrong foot and then the movie just has the most random-ass ending I've ever seen. It feels like NOTHING was resolved in the movie. That one bitch kills William Foster and then William Eddy goes to rescue his wife and child, but he faints and two guys take him away into this house or something. That's the end of the fucking movie...WHAT? Shitty ending and shitty beginning. The movie also looks like crap, what shitty cinematography. I don't think I've ever seen a movie with such unlikeable characters that you're supposed to root for to survive. You have Mr. Eddy. This guy was a fucking douche. He refuses to hand over a rifle that's not even his. He refuses to share meat with the other people in this expedition. And when they leave, he steals a bag with bread (or meat, I'm not sure) and eats it by himself, REFUSING to share with the other people who are DYING. Then I'm supposed to feel sympathy for this fucker when he sets out to go back for his wife and son...fuck you asshole. Then there's the bitch who shot Foster, because they ate her dead husband. Bitch...the fucker is DEAD, you need to consume his flesh to survive. Just a bunch of fucking unlikeable people. The music score is good though. This is basically just an average TV movie, but hey I watched it for free, so what the fuck.
Jesse Ortega
Super Reviewer
½
We've all heard the true story of the fallen party of settlers led by William Hastings who were forced to resort to cannibalism in order to survive in the Sierra Nevada mountains, This film tells the tale in a somewhat loose fashion of the group's failure to reach their destination of California which ended up being quite near to where more than half of them met their demise. I enjoyed seeing Crispin Glover as the preacher and one of the "leaders" of the pack on their journey towards California where they seek salvation. Obviously, the film is quite grim in subject matter, and does not quite establish any meaningful characters or backstory. However, if you like Crispin Glover, you'll want to see this. He talks with a British accent, and sounds quite like Donald Pleasance. I find it difficult to watch him in anything without thinking of his brilliant character work as Lane in "River's Edge", but when it all comes down to it, he seems to make just about anything entertaining. "See? It's okay, he saw it on the television."(Jack Nicholson as Jack Torrance in "The Shining").
½
Something was definately missing from this movie (besides good acting and an interesting way to present the plot). I would skip this one...
Sarah Prisbylla
Super Reviewer
The Donner Party Quotes
There are no approved quotes yet for this movie.