Donnie Darko
(2001)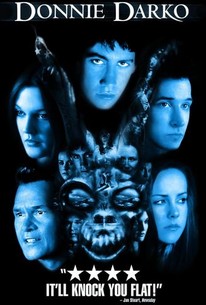 TOMATOMETER
AUDIENCE SCORE
Critic Consensus: Richard Kelly's debut feature Donnie Darko is a daring, original vision, packed with jarring ideas and intelligence and featuring a remarkable performance from Jake Gyllenhaal as the troubled title character.
Movie Info
Donnie (Jake Gyllenhaal) is a bright and charming high-school student who also has a dark and willfully eccentric side; he does little to mask his contempt for many of his peers and enjoys challenging the authority of the adults around him. Donnie is also visited on occasion by Frank, a monstrous six-foot rabbit that only Donnie can see who often urges him to perform dangerous and destructive pranks. Late one night, Frank leads Donnie out of his home to inform him that the world will come to an end in less than a month; moments later, the engine of a jet aircraft comes crashing through the ceiling of Donnie's room, making him think there might be something to Frank's prophesies after all. The rest of Donnie's world is only marginally less bizarre, as he finds himself dealing with his confused parents (Mary McDonnell and Holmes Osborne), his college-age sister (Maggie Gyllenhaal), his perplexed analyst (Katherine Ross), a rebellious English teacher (Drew Barrymore), a sleazy self-help expert (Patrick Swayze), and the new girl at school who is attracted by Donnie's quirks (Jena Malone). Donnie Darko was the first feature film from writer and director Richard Kelly; Drew Barrymore, who plays teacher Karen Pomeroy, also lent her support to the project as executive producer. A director's cut played in select theaters on a limited basis in the summer of 2004, featuring original music cues and trimmed scenes originally in Kelly's first cut of the film. ~ Mark Deming, Rovi
Critic Reviews for Donnie Darko
Audience Reviews for Donnie Darko
A smart high schooler realizes 1) that his schmarts sets him forever apart from mainstream society, 2) a society which ain't all that much to begin with and more, which hates him for his schmarts, and so 3) he concocts a plan to do something about it. A stunning debut for writer/director Richard Kelly, a poetic and apt critique of society (if obvious), as well as decent filmmaking to boot. What more do you want?
Kevin M. Williams
Super Reviewer
Incredible movie, completely underrated. Donnie Darko is the most unlikely hero of the small town of Middlesex in this amazing, original film. It may require more than one viewing to understand it. I highly recommend watching the director's cut.
I'm not sure what I'm supposed to come away from Donnie Darko with, I would say that this is a very clever film, or a very clueless one. ( I Think) When it begins everything that follows for the next hundred minutes has happened already. That's one way to look at it. Another way would be to see it as pure surrealism like John Carpenter's In The Mouth of Madness or David Lynch's Mullholland Dr. Such films are conundrums, but the question is whether or not you are capable of watching a movie that leaves you frustrated intentionally. If surrealism is your thing, you will probably have luck with Donnie Darko. It is a good one for a movie goer. Up until the climax, we are led to believe that this is a film about a young suburban middle- class boy (Donnie) who has schizophrenia and one night envisions a large satanic looking rabbit (the anti-Harvey) to tells him to do some pretty bad things if he wants to survive the end of the world in 28 days, something hours and something seconds. The people in this film are weird, though not as much so as Mulholland Dr. (In part because the acting here is more toned down, usually) One could argue though that there are too many characters. Some of the screen time that is dedicated to the supporting cast could have gone to Donnies story, which is more important. His conversations with Frank (the rabbit) are intriguing but they are too short and too few. The climax is one that takes Donnie Darko and turns it inside out. There is no literal resolution to the thriller side of Donnie Darko, only what the viewer chooses to make of it. Is it a great movie? no, but its partial originality and evocative direction are enough to make it worth a watch. 1/2 Star 1-15-2004 (Updated)
Bruce Bruce
Super Reviewer
Donnie Darko Quotes
| | |
| --- | --- |
| Donnie Darko: | First of all, Papa Smurf didn't create Smurfette. Gargamel did. She was sent in as Gargamel's evil spy with the intention of destroying the Smurf village. But the overwhelming goodness of the Smurf way of life transformed her. And as for the whole gang-bang scenario - It just couldn't happen. Smurfs are asexual. They don't even have reproductive organs under those little white pants. That's what's so illogical, you know, about being a Smurf. What's the point of living... if you don't have a dick? |
| | |
| --- | --- |
| Donnie Darko: | If God Controlled time, then the time is pre-decided |
| | |
| --- | --- |
| Donnie Darko: | I just hope, that when the world comes to an end, I can breathe a sigh of relief...because there will be so much to look forward to. |
| Donnie Darko: | I just hope, that when the world comes to an end, I can breathe a sigh of relief... because there will be so much to look forward to. |