Donovan's Reef
(1963)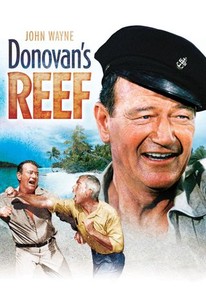 Movie Info
John Ford's last film to deal with World War II, Donovan's Reef is an alternately comical and sentimental look back on the fighting Navy men from that war, and how and where -- in Ford's eyes, and Frank Nugent and James Edward Grant's script -- they should have ended up. Michael "Guns" Donovan (John Wayne), Thomas "Boats" Gilhooley (Lee Marvin), and Dr. William Dedham (Jack Warden), a trio of navy veterans who fought on the Pacific island of Haleakalowa during the war, now live on the island. Donovan and Gilhooley, biding time and enjoying themselves, engage in rough-house hijinks among themselves, and are both part of the doctor's extended family, enjoying the good will of the islanders for whom they fought during the war. While Dedham is away on a call to a neighboring island, his grown daughter, Amelia (Elizabeth Allen), from his first marriage, whom he has never seen, announces that she is arriving from Boston to determine Dedham's fitness of character to inherit the majority shares in the family shipping business. Donovan contrives to present Dedham's three Polynesian children, whom the doctor had with the island's hereditary princess, as his own, and also squires Amelia around the island in her father's absence. In the process, the cold Bostonian woman discovers a whole world -- of passion, joy, heroism, and a life among men and women whose lives have been about something other than making money -- that she's never known. She also understands all of the good that her father has accomplished away from Boston, even though it entailed abandoning her. Sparks and even a few fists fly between Donovan and Amelia (and between Donovan and several other characters), in the usual Ford rough-house manner, before their eventual reconciliation and a romantic clinch at the end, in this sweet, sentimental comedy-drama. ~ Bruce Eder, Rovi
Critic Reviews for Donovan's Reef
Audience Reviews for Donovan's Reef
The writing is a little sloppy, and overall things are silly and everything is meant to be light entertainment-but I rather enjoyed this. It was funny, even if things seem very dated and silly, but still, a good laugh or two or three never hurt anyone-especially when the intentions are good. It is weird (but cool) seeing Lee Marvin as comic relief though.
Chris Weber
Super Reviewer
Donovan's Reef was the final collaboration between Johns Wayne and Ford, and features manly men doing manly things such as swill booze, chomp on cee-gars and hit each other with furniture. It can best be seen as a kind of attempt to make a masculine romantic comedy. However to me it just seemed like a western set in the south seas with all but the bar room brawls, sentiment and romance removed. In other words, with all the good bits removed. It's not dreadful as such, but it's gender politics are very dated (as if a young Boston sophisticate would be attracted to an middle-aged, brawling, beer sodden school boy) and it's just not that funny. Not a fitting epilogue to a partnership that produced some of the cinematic greats. Or maybe I'm just not "manly" enough...
½
Good funny with John Wayne and Lee Marvin, but I see heaps of mistakes in saloon brawl scenes.
Dean McKenna
Super Reviewer
Donovan's Reef Quotes
There are no approved quotes yet for this movie.