Don't Be Afraid Of The Dark
(2011)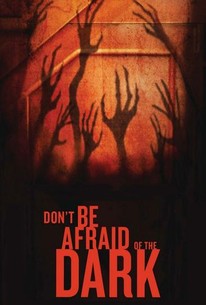 TOMATOMETER
AUDIENCE SCORE
Critic Consensus: While it's pleasantly atmospheric and initially quite scary, Don't Be Afraid of the Dark ultimately fails to deliver the skin-crawling chills of the original.
Don't Be Afraid Of The Dark Photos
Movie Info
While architect Alex Hurst (Guy Pearce) and his new girlfriend Kim (Katie Holmes) restore their Gothic mansion's period interiors, Alex's young daughter Sally (Bailee Madison) can investigate the macabre history and dark corners of the estate. Spurring Sally's investigation are the voices-rasping whispers who call out to her from the basement, who promise her understanding and friendship, who are so very hungry and would like to be set free. When Sally gives in to her curiosity, she opens a gateway into a hellish underworld from which an army of beady-eyed, sharp-clawed monsters emerge, small in size but endless in number. Confronted with the horror that now threatens to taker her life and destroy her family, Sally desperately tries to warn the whole house, but there's just one problem: no one believes her. -- (C) Miramax
Critic Reviews for Don't Be Afraid Of The Dark
Audience Reviews for Don't Be Afraid Of The Dark
½
Hey, I'm a fan of the 1973 original; it was the first real horror movie I saw and made me a horror fan for life. The remake producer Guillermo Del Toro was supposedly a fan too, but this movie was too manufactured and lacked the rawness of the original. The remake's large gothic house was overdressed and overstyled. One of the biggest changes from the orignial was that the family in the house now had a little girl - and she was the one pestered by the little goblin things which came out of the caverns under the fireplace in the basement. They created a huge legend of these creatures, with a historical sorta prologue of the previous owners. Added to the legend was the creatures' need for human teeth! All this story clutter made the story less immersive and less scary. I liked the CGI appearances of the creature hoard. The scene with the Handyman meeting the creatures was painfully gorey. They remade some of the classic scenes with greater effects, but nothing in the whole movie was ever scary. The pay-off came at the end, which I really liked.
Lafe Fredbjornson
Super Reviewer
First of all, the rating is all wrong. I think 15 is more like it. There were times when the characters' actions were painfully stupid and I thought the ending was rubbish. Despite all that, I really enjoyed this one.
vieras esine
Super Reviewer
½
Creepy little demons. Scared little girl that no one will pay attention to. Lots, and lots of darkness...made me jump more than once, so that means something in my book. Not the greatest of endings, as usual..
Cynthia S.
Super Reviewer
Don't Be Afraid Of The Dark Quotes
| | |
| --- | --- |
| Sally Hurst: | Tell me what you want! |
| Creature: | We want you! *screeches* |
| Creature: | We want you! [screeches] |
| | |
| --- | --- |
| Harris: | This house is unsafe for a child. |
| | |
| --- | --- |
| Sally Hurst: | They don't like bright lights, you know, those things. |