Don't Breathe
(2016)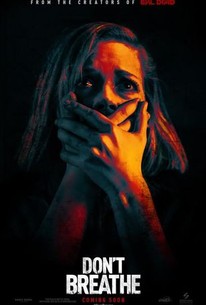 TOMATOMETER
AUDIENCE SCORE
Critic Consensus: Don't Breathe smartly twists its sturdy premise to offer a satisfyingly tense, chilling addition to the home invasion genre that's all the more effective for its simplicity.
Movie Info
A trio of reckless thieves breaks into the house of a wealthy blind man, thinking they'll get away with the perfect heist. They're wrong.
Critic Reviews for Don't Breathe
Audience Reviews for Don't Breathe
½
The movie requires quite some suspension of disbelief on several accounts from the audience. Once you accept that, it's actually pretty exciting and well done. Of course a single house doesn't offer unlimited rooms and situations for scares and close calls, but the movie makes the most of it, keeping the tension high and never overstaying its welcome in any given moment. Thankfully, the characters do not act foolishly all that often and especially Rocky is easy to cheer for, so overall the result is pretty satisfying for suspense thrillers with a slight bit of gore.
½
Fede Ã?lvarez's directorial efforts amplifies the suspense and disturbance of this home-invasion nightmare. Don't Breathe has a stylish sense of vision to go along with some nerve-wracking sequences and a couple of twists and turns along the way, making for a different, yet intricate type of horror film without any of the convenient gore/jump scares/supernatural shticks. 4.5/5
Eugene Bernabe
Super Reviewer
After a series of horror shorts, director Fede Alvarez was finally given his big break into feature length filmmaking by being tasked with reworking the cult classic horror Evil Dead. This also brought the backing of the original film's director and star, Sam Raimi and Bruce Campbell who took producer duties. It was a huge task for Alvarez to undertake and although it worked for some, it happened to be one of the worst films I had the misfortune to see in 2013. With Don't Breathe, however, Alvarez has managed to claw back some respect. Plot: A trio of teens, who make money breaking into people's homes, target the residence of an old blind man (Stephen Lang). The blind man isn't as helpless as he seems, though, and what should have been an easy job turns out to be fight for survival. The premise of Don't Breathe is a simple one. And sometimes simple is best. Alvarez seems to be aware that all he has to do is set the scene and then let the thrills flow. And for the first half of the film, he does just that. This really is edge of your seat stuff and provides several moments where you take the title of the film quite literally. He doesn't waste any time in getting down to the nitty gritty and employs an effective fast pace that keeps the tension flowing with ease. This, in turn, lends the film a genuine unpredictability and makes for hugely enjoyable and claustrophobic entertainment. However, it stretches credulity past the halfway mark and veers off into territory that almost undoes the great build-up work. What was a solid cat-and-mouse thriller, soon descends into macabre and garish horror. Needless to say, it also abandons its tight and simplistic narrative at this point and chooses, instead, to focus on ridiculous and overly convenient plot points. There's a distinct feeling that the well ran dry and Alvarez had no idea how to bring it to a satisfactory end. That said, it's well shot and Alvarez certainly handles the set-pieces very well. Although it's been marketed as a horror - and it does have elements of this - it's more of a suspenseful thriller that's brushed past some horror tropes. If you can forgive the latter half's incongruous absurdity, then there's much to recommend it. Mark Walker
Mark Walker
Super Reviewer
Don't Breathe Quotes
There are no approved quotes yet for this movie.