Don't Come Knocking
(2006)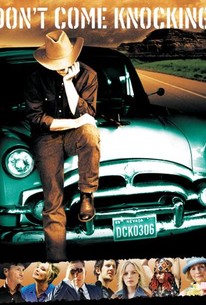 TOMATOMETER
AUDIENCE SCORE
Critic Consensus: The cinematography conjures beautifully evocative landscapes, but aside from that, the film is meandering and pointless.
Don't Come Knocking Photos
Movie Info
Howard Spence has seen better days. When he was younger he was a movie star, mostly in Westerns. At the age of 60, Howard uses drugs, alcohol and young girls to avoid the painful truth that there are only supporting roles left for him to play. After yet another night of debauchery in his trailer, Howard awakens in disgust to find that he is still alive, but that nobody in the world would have missed him if he had died. Howard gallops away on his movie horse in full cowboy regalia; fleeing from the film and his life. After a short trip to see his mom in Nevada, he heads to Butte, Montana, the location twenty five years earlier where Howard shot the movie that made him a star. There he visits and old flame and encounters some surprises from his past.
Critic Reviews for Don't Come Knocking
Audience Reviews for Don't Come Knocking
½
Very impressed with this film. A great anti-Western, it's depicting a world outside of the Western genre still shot in, basically, the Western genre. The leading man echoes Clint Eastwood in a way - Clint's got six children by a few different women - and you can't help but ask what that's like when the on-screen cowboy has an off-screen cowboy story of a life to live. Utah, Nevada and Montana look beautiful and desperate in this film, and though it starts off sort of comically, it becomes clear that there is a lot of pain in these characters. Well-acted and well-shot, if not an example of super writing, I'm still hearing that Don't Come Knocking isn't one of Wim Wenders' best. It's the first of his movies I've watched, and it's opened my eyes to his oeuvre nevertheless. Coming from Germany, it blows my mind that he can tell a wonderfully American story like this one, but thanks to this film I'll be sure to visit Paris, Texas shortly. Lots of meta-film going on here, too: how many movies are actually filmed in Bute, Montana? Import Sam Shepard, Jessica Lange, Sarah Polley et al to the town, and you have to wonder if it could have had a real effect on the town akin to the one the main character's film did within the story... probably not, but it's a question that makes it interesting. It's hard to say much about this movie without spoiling it, and it does move really slowly, but I was hanging off it the whole way - suffice to say that in a later scene, why the White Stripes make sense to America, the world and me was hammered home, which might've made the movie in itself. The style and the chase at the heart of the story seemed like an inspiration for No Country For Old Men, too... at any rate, in my opinion, this is a film (and probably a director) not to be missed.
Daniel Perry
Super Reviewer
Faraway,so close dear Wenders...it's a shame,really,to stuck en route for the American dream as you say in all your filmography,discovering the core and then self-exploding?A pity,this was the pinnacle of Wenders' journey.I believe it's about time to pick up the rest of the pieces and think of concrete ideas instead of dead end road trips.I wish I hadn't given one star on this but he wouldn't leave me any other option.Utter failure.
Dimitris Springer
Super Reviewer
The poetic journey of an aging cowboy who seeks for redemption and forgiveness. Wenders lyric take on an existencial drama, with exceptional and touching performances by Sam Shepard, Jessica Lange and Sarah Polley.
Pierluigi Puccini
Super Reviewer
Don't Come Knocking Quotes
| | |
| --- | --- |
| Sky: | Why did you let so much time go by? |
| Howard Spence: | I didn't know it was passing. |
| | |
| --- | --- |
| Sky: | I think I like the movies better. |
| Doreen: | Than what? Better than what? |
| Sky: | Than real life. |
| | |
| --- | --- |
| Howard's Mother: | Lying is for cowards. |
| | |
| --- | --- |
| Sutter: | Share this quote -------------------------------------------------------------------------------- Howard Spence: Mind if I turn the radio on? Sutter: Yes, I do, as a matter of fact. I don't like outside influence. Howard Spence: Outside? Sutter: That's right. The world at large. It's a nasty place. Why allow it in? Livestalk reports, Navajo chanting, beheadings, bestiality. Nothing's changed. Black Death, the Inquisition, the Crusades, conquest of Mexico. What's changed? Howard Spence: I was thinking... Sutter: What? Howard Spence: I don't know. Sutter: Nothing's changed. Howard Spence: Guess not. |
| Howard Spence: | Mind if I turn the radio on? |
| Sutter: | Yes, I do, as a matter of fact. I don't like outside influence. |
| Howard Spence: | Outside? |