Don't Tell Mom the Babysitter's Dead
(1991)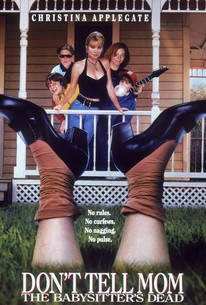 TOMATOMETER
AUDIENCE SCORE
Critic Consensus: It has an amusing enough premise, but Don't Tell Mom the Babysitter's Dead will just leave viewers pining for the madcap hijinks promised by the title.
Don't Tell Mom the Babysitter's Dead Photos
Movie Info
Christina Applegate stars in this convoluted comedy that comes across as a teen fantasy combination of Home Alone and Working Girl. The premise is all in the title -- when the mother (Concetta Tomei) of a sniveling group of surly kids goes on a much-deserved summer vacation, she leaves her kids under the charge of an elderly distaff granny (Eda Reiss Merin). When granny ups and dies, the kids load her dead body in a trunk and deposit the package on the steps of the local funeral home. The kids are ecstatic thinking that with the big wad of cash Mom has left, they can have a summer of consumer madness. But when they find out that the money has been buried with the baby-sitter, the kids have to fend for themselves to make ends meet. Dream teen Sue Ellen (Christina Applegate) tries working at a fast food restaurant but she can't stand the grease. So, she puts together a false resume and, posing as a twenty-eight-year old, she applies for a job as a receptionist at a garment manufacturing company. The company vice president, Rose (Joanna Cassidy), is so impressed by her resume that she hires her on the spot as her executive assistant. Her deception looks to be working out great -- Sue Ellen manages to hold off the office lady killer Gus (John Getz), avoids exposure by the embittered receptionist, borrows money from the company's petty cash box for household incidentals, and continues her relationship with restaurant employee Bryan (Josh Charles). But suddenly, the clothing firm is set to go under, and Sue Ellen must use her teen fashion sense to save the company and her job . . . and she has to get the rest of the brood involved.
Critic Reviews for Don't Tell Mom the Babysitter's Dead
Audience Reviews for Don't Tell Mom the Babysitter's Dead
All time favourite I have watched many, many times over the years and never tire of. Yes, it's far fetched, but it's funny and quite sweet. I love the clothes too and the make up. I also worked in an office around this era and I could only dream of being as glamorous as Christina! (Yuck to the smoking though). Some good characters you can love to hate and some relatable situations among the far fetched stuff.
Nicki Marie
Super Reviewer
½
Once again I'm hit by a wave of nostalgia. I will admit that I'm inflating the grade here, and giving it more props than maybe it's worth, but I can't help it. This film may be typical and predicatble, but I dig it. The story concerns a bunch of wild siblings who, after their mom leaves for an extended overseas trip, are put into the care of a mean and strict babysitter. However, the hell they face with her is nothing compared to the hell they have to endure after she passes away unexpectedly, forcing the kids to grow up and become mature responsible people, which is even more of a drag since it means not spending their summer having all they fun they had planned on. This is an unrealistic fantasy, but it's charming and really funny. Plus, I' sure plenty of parents would love to come home someday to see their wild, heavy metal stoner son all cleaned up, straight, and wearing nice clothes like a real gnetleman. The cool thing about this movie though, is that once the characters make changes, you do feel like maybe they really mean it (at least for some of them), and they didn't change totally out of necessity to fit a temporary situation. This film is a bit of a mess, implausible, and dated to a degree, but it's fun, so there.
Chris Weber
Super Reviewer
ive probably seen this. whether i have or havent, its nothing special.
Coxxie Mild Sauce
Super Reviewer
Don't Tell Mom the Babysitter's Dead Quotes