Je Vais Bien, Ne T'en Fais Pas (Don't Worry, I'm Fine)
(2006)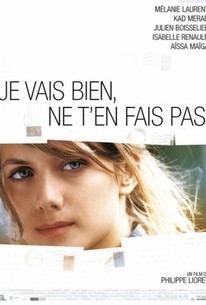 AUDIENCE SCORE
Critic Consensus: No consensus yet.
Je Vais Bien, Ne T'en Fais Pas (Don't Worry, I'm Fine) Photos
Movie Info
The unexpected disappearance of her troubled brother causes a nineteen year-old girl intense emotional distress as French filmmaker Philippe Lioret collaborates with author Oliver Adam to adapt Adam's popular novel for the screen. Upon returning from Barcelona after spending the summer with new friends Lea (Aissa Maiga) and Thomas (Julien Boisselier), Lily (Melanie Laurent) discovers that her twin brother Loic (Mickael Trodoux) has fled the family home following a particularly intense confrontation with family patriarch Paul (Kad Merad). When Loic fails to return Lily's increasingly desperate calls and her parents continually fail to explain the reasoning behind her brother's flight, the troubled girl lapses into an alarming emotional malaise in which she is unable to eat or sleep. Her health rapidly failing, Lily is admitted into a local hospital where she languishes until a letter arrives from her brother condemning the pair's father for ruining their lives. Upon recovering from her malady Lily sets out to locate her brother. It is a quest that will not only provide Lily with a better understanding of her faltering family dynamics, but set her down the path to womanhood as well. ~ Jason Buchanan, Rovi
Critic Reviews for Je Vais Bien, Ne T'en Fais Pas (Don't Worry, I'm Fine)
All Critics (2) | Fresh (2) | Rotten (0)
Nominated for five Cesar awards and winner of two, this poignant drama about family relationships and secrets is both involving and surprising
...such an unusual journey tripped by such a seemingly odd event that its overall effect is difficult to describe -- this is a film which really must be experienced.
Audience Reviews for Je Vais Bien, Ne T'en Fais Pas (Don't Worry, I'm Fine)
½
A solid drama that begins with a simple premise but then grows increasingly engaging as it refuses to offer easy answers and always surprises us with Lioret's firm direction - a film that will probably leave you pondering for some time about the questions it raises.
Carlos Magalhães
Super Reviewer
I think I've read reviewers that would call this film "manipulative," but I thought it was excellent, a simple story about following a young woman - an enchanting, headstrong, beautiful young woman, a character I fell in love with - as she looks into the disappearance of her brother and her family's staunch, inexplicable unwillingness to confront the gravity of the situation. It's short and compelling, if a little glossy, and though the conclusion feels a touch cheap, it's such an honest story I'm willing to forgive it. In all, it's another fine example of realist French film in recent years, and in my opinion, it's one you should add to your must-see list.
Daniel Perry
Super Reviewer
Don't Worry, I'm Fine starts off really well. It captures a young girl distressed at her twin brothers disappearance. Though Laurent gives a great performance, it is hard to truly connect to her because we don't know why they were so close. The only thing that is said is "They were very close, they were twins". That's all very well and good, but it isn't enough to justify a story where she tries to kill herself over it. Towards the end the film feels obligated to answer some questions with a series of twists. It does have you questioning the motives and mindset of other characters, but again this is an important thing that is never quite reseolved. It's certainly a well made film, but with too many gaps to ever be great.
Luke Baldock
Super Reviewer
Je Vais Bien, Ne T'en Fais Pas (Don't Worry, I'm Fine) Quotes
There are no approved quotes yet for this movie.