The Doom Generation
(1995)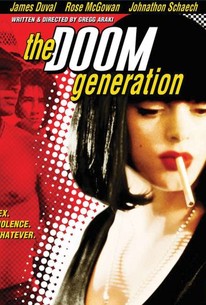 The Doom Generation Photos
Movie Info
Billed as "a heterosexual movie by Gregg Araki," The Doom Generation is the director's self-styled bad-taste teen film. Amy Blue (Rose McGowan) is an obnoxious teenage speed freak and her boyfriend Jordan White (James Duval) is a passive, slow-witted poseur who won't have sex with her because he's terrified of AIDS (even though they both claim to be virgins). One day, they run across Xavier Red (Johnathon Schaech), a charming but enigmatic drifter who has a bad habit of killing people. Joining the young couple on a seemingly endless road trip, Xavier (or "X,"as the verbally challenged Jordan insists on calling him), proves a threatening and repulsive yet strangely alluring companion whose very presence raises issues of loyalty and sexual identity. The Doom Generation is dotted with a variety of eccentric cameo appearances, including comic Margaret Cho, actress Parker Posey, musician Perry Farrell, "Hollywood Madame" Heidi Fleiss, and onetime Brady Bunch star Christopher Knight. This is the middle installment in Araki's "teen apocalypse trilogy," which also includes 1993's Totally F***ed Up and 1997's Nowhere. ~ Mark Deming, Rovi
News & Interviews for The Doom Generation
Critic Reviews for The Doom Generation
Audience Reviews for The Doom Generation
½
Pretty sure this was written by a 9 year old who learned the f word. It makes no sense, and they constatnly insult each other using phrases I've not heard since middle school. It gets 1.5 stars for being strange and having killing and a few short blissful moments of Rose McGowan. Otherwise I wanted strangle every character in it.
Curtis Lilly
Super Reviewer
This movie has a consistent and unique tone, which is why I wasn't surprised this was an Araki film. Araki is fantastic with tone, and in this film, he creates an alternate electro junkie 90s fever-dream where the world is always on the edge of ending and everything is distorted into symbols and pop art to convey the indescribable desperation and fear the characters think rests naturally within their souls. The soundtrack is near constant, and is as much an important character as the three people this film focuses on. The story is an odd love triangle set in post modern crazy land, with the repeated incidents of sudden deadly violence and cases of unforgivable mistaken identity pushing the plot from one sex scene to another. This film pulls into the world of these three characters so fully. Rose McGowan creates the paradigm of the annoying junkie girl from the 90s and it plays well off the sensitive stoner and daring bad boy cutouts of characters. Definitely a film for people who feel like thinking about what they are watching, as much of the detail is in symbolic 90s art creations and the main plot points reference not reality, but B movies. Watching this movie is like falling into an abyss of the 1990s and its complacent pessimism. The film just leaves one feeling unsettled and in this way perfectly captures its era and what its characters are feeling and conveys that to the audience. Fantastic ending, a real blinder that works so well. Cool cameos: Parker Posey and Perry Farrell of Jane's Addiction "Most Fucked Up" highlight: head still talking, the conclusion
_kelly .King
Super Reviewer
½
Cheesy, sleezy and gory. Rose McGowan still manages to badly act, but James Duval is really endearing somehow. It's worth the watch..but don't get too invested.
Hogans Hero
Super Reviewer
The Doom Generation Quotes
| | |
| --- | --- |
| Amy Blue: | I'm so mad at you, I could rip your testicles off and staple them to your ankles. What the fuck did you have to go and tell Jordan for? |
| Xavier Red: | Tell him what? |
| Amy Blue: | What do you think, doorknob? That we got together! |
| Xavier Red: | Well, didn't you utterly dig it? |
| Amy Blue: | That is not the point! |
| Xavier Red: | Well, what is the point then, get it? Guilt is for married, old people! |
| Amy Blue: | You're incredible. You're not even human, are you? You're like a life-support system for a cock! |
| | |
| --- | --- |
| Brandi: | (draws a sword) I am gonna lop his... dick off... like a chicken head. |
| Brandi: | [draws a sword] I am gonna lop his... dick off... like a chicken head. |
| | |
| --- | --- |
| Amy Blue: | Oh my God. If i don't find my skull lighter, I'll, like, slit my wrists. |