Doomed
(2007)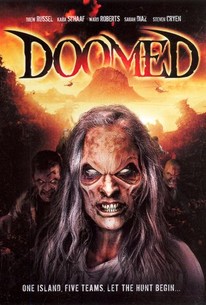 AUDIENCE SCORE
Critic Consensus: No consensus yet.
Movie Info
The year is 2020, and as the ten contestants of "Survival Island 2020" converge on a deserted island to compete for $50 million, money is about to become the least of their concerns. "Survival Island 2020" is the latest reality television craze, but in order to keep the ratings up producers will have to resort to more sensational tactics than ever before. As the contestants gather to go over the rules of the game, the producers reveal that their common enemy will be a zombie horde with an unrelenting appetite for human flesh. The result of a top-secret military experiment gone horribly awry, these cannibalistic corpses will not stop until everyone is dead or they've been dispatched with a bullet in the head - whichever comes first. Now, as the sun warms the azure waters around this picturesque island paradise, the hapless contestants are released into the jungle to do battle with a mindless enemy driven by hunger and devoid of any reason or logic.
Critic Reviews for Doomed
There are no critic reviews yet for Doomed. Keep checking Rotten Tomatoes for updates!
Audience Reviews for Doomed
Interestingly made indie zombie survival horror which is plotted as if you're watching the daily highlights of a reality TV show like 'Celebrity Get me out of Here'. Contestants have three days to survive on an isolated island inhabited by zombified soldiers. It's Battle Royale meets 28 Days Later basically but made on the cheap with poor actors and cheapo effects. But it's fun, amusing and unpredictable in terms of who lived and who died, lacked gore though unfortunately.
Doomed Quotes
There are no approved quotes yet for this movie.