Doomsday
(2008)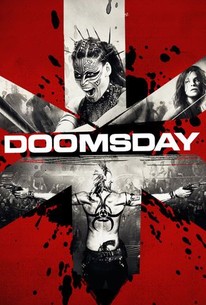 Movie Info
Three decades after a major country is quarantined in hopes of containing a lethal and highly contagious virus nicknamed "Reaper," signs that the super-bug has resurfaced in a major city prompt desperate specialists to race back into the infected zone to find a cure in director Neil Marshall's (The Descent) miasmic speculative sci-fi thriller. Few could have foreseen the terror that the microorganism known as "Reaper" would unleash upon the unsuspecting population, and when terrified authorities quarantined the entire country in hopes of saving the human race, the streets immediately descended into chaos. Thirty years later, the inhabitants of planet Earth think that they've seen the last of the merciless killer disease, but they couldn't be more wrong. When "Reaper" reappears more powerful than ever in a major city, an elite group of professionals led by Eden Sinclair (Rhona Mitra) are forced to travel back into the sealed-off country where the virus first broke out in order to create a cure and save humankind from certain doom. Now, as the rest of the world anxiously awaits word of their ultimate fate, Eden and her brave team are about to find out that there is indeed a hell, and they are about to journey directly into its black, envenomed heart. Also in the cast are Bob Hoskins and Malcolm McDowell, as well as a host of veterans from Marshall's past productions, including Sean Pertwee, MyAnna Buring, Craig Conway, and Nora-Jane Noone. ~ Jason Buchanan, Rovi
News & Interviews for Doomsday
Critic Reviews for Doomsday
Audience Reviews for Doomsday
½
[img]http://images.rottentomatoes.com/images/user/icons/icon14.gif[/img] The downside is not a question of whether Doomsday is an interesting or entertaining film, or both. Because it's been crafted with so much energy, style and good heartedness. The problem overall is that it lacks a cohesive narrative to support the eye popping beauty of it's surface visuals. The less exhilarating flaw however is how terribly ordinary it is. And how unremarkable it is in comparison to the numerous futuristic thrillers that it decides to borrow from. Rhona Mitra didn't help at all because her performance is simply an utterly charmless and less thrilling impression of Kate Beckinsale in Underworld. I know that it isn't a great start to the review, but the film offers plenty of reasons why it should be recommended. While incredibly stupid and wildly derivative, it is a real heart-racer of a film. Neil "Dog Soldier" Marshall's tremendously fast paced direction is an impressive and quite welcome change to his usual restrained but nevertheless amazing directorial talent. His previous films "Dog Soldiers" and "The Descent" were claustrophobic works of art. This is a rip roaring and hilarious action horror that delivers the thrills but falls at the expense of a likable heroine and developed character arcs. Marshall's previous films boasted all of the above, and their absence dissapointed me. I have always kept high expectations for him because he is one of the best directors of our time. Although Doomsday is certainly not a classic, it is also never dull. It has all of the breathtaking, explosive qualities that Hollywood films should have. That is a good thing, but it also means that the things good about it are generic. The heartbreaking downside for me was the disappearance of the flawlessness of his earlier films. As they say, you can't have too much of a good thing. I think Doomsday is a fun, messy, flawed, dark and gritty film. It has variable qualities and ideas that fit and others that don't. But it passes in terms of living up to the strength of it's convictions. It's well designed, underated, action packed and purely badass.
Directors Cat
Super Reviewer
A bit like Mad Max 3 meets 28 days later just not as good as either of those. Really didn't understand how after being quarantined for 30 years, Scotland went back to the middle ages..... except some thugs had cars/bikes/buses. It was a bit of a mess really. Plus that whole eye thing was a load of crap.
Stuart Brooks
Super Reviewer
½
Where to begin with this haha first of, you have a '28 Days/Weeks later' clone with almost the same flippin story line. Killer virus, England is screwed, Scotland used as quaratine zone, survivors discovered, go in and get the cure. Very predictable and with a little 'Escape from New York' throw into the bargain. Now so far its an eerie and quite decent horror/sci-fi flick, but things start to go wrong, first of, Scotland has all been left for dead and everyone has suppose to have been dead for along time (30yrs) from the killer virus, but then all of a sudden, people are found roaming around via sat shots....hmmmmm OK, send in the elite team lead by a sexy female (Kate Beckinsale wannabe) ala 'Aliens' to get the cure from these people. Hence the now Aliens rip, a team go in being watched by a team on cam and end up in a admittedly very good shoot out with a never ending supply of nasty Scottish weirdos. The team is killed of one by one till the last few are captured, very exciting but very 'Aliens' haha one question that does stand out though is how on earth all theses hundreds of people managed to live n survive in a community like the film shows without being detected for so long?????? and how come so many are immune to the virus??? it was suppose to be a KILLER. Anywho, from then we get a very odd 'Matrix' style 'city of Zion' setup with all the locals raving away to the 'Fine Young Cannibals' (80's gold hehe) and eating the captured soldiers, all in a very 'Mad Max/Rocky Horror' costume setup within a concert or arena. The leader of the Scottish cannibals is a direct 'Mad Max' rip of right down to his hair style. He also seems to have a '28 Days Later' or 'Resident Evil' style tat on his back which is rather similar to the toxic logo they both use...AND he has his very own gimp in rubber, much like Mad Max 2's Vernon Wells character. NOW...from there lots happen (won't spoil) but we now end up in another part of Scotland where the locals are living back in Medival times with horses, knights and Malcolm Macdowell leading them. We now end up with 'Gladiator' style fights and gun battles, oh and a Bentley turns up to, lol! still with me? From there, in the escape form of the Bentley we end the film with a HUGE TOTAL MASSIVE rip of 'Mad Max 2', quite a gloriously bloody and spot on rip I must say. Its actually a very cool sequence with great cars and fighting but I just cant understand how they got away with it haha its such a copy its untrue. Also, you may wonder how all these crappy cars can keep up with a modern day super Bentley haha it should wipe the floor with the cannibal carriers. After all this the film tends to end on a rather unexplained note, the heroine stays in disease infested Scotland and returns to the cannibal camp to proclaim their leader dead..why?? no sense atall. Overall this film is really really good, very tense,exciting, bloody, gorey and has absolutely every element a film could need, they have packed in almost all sci-fi action genres into one film haha bizaare!! but it does work and its a good British film if you overlook the outrageous copying of many many classic movies, worth a look for sure.
Phil Hubbs
Super Reviewer
Doomsday Quotes
| | |
| --- | --- |
| Viper: | If you're hungry, why don't you try a piece of your friend. |
| | |
| --- | --- |
| Viper: | very nice!! |
| Viper: | Very nice job! |