Doorway to Hell
(1930)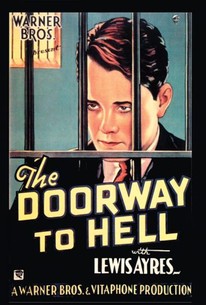 AUDIENCE SCORE
Critic Consensus: No consensus yet.
Movie Info
In this early talkie, a vicious crime lord (played by Lew Ayres in a rare villainous role) decides that he has had enough and much to the shock of his colleagues decides to give the business to his second in command (James Cagney in hi second film role) and retire to Florida after marrying his moll. Unfortunately, he has no idea that she and Cagney are lovers. Part of the reason the don wants to leave is to keep his young brother, who idolizes him, from learning the awful truth about his avocation. Soon after moving down to Florida, former rivals kidnap the brother and kill him, causing the reformed gangster to come back for deadly revenge. This was an innovative film and featured a lot of elements that would become standards in the gangster genre including tommy guns carried in violin cases, terrible shoot-outs, and lots of rum-running rivalry.
Critic Reviews for Doorway to Hell
Audience Reviews for Doorway to Hell
This pre-Code gangster movie is interesting primarily because of James Cagney, who is in a supporting role, that of a gangster's right-hand man. His boss is played somewhat improbably by 21-year-old Lew Ayres, who is hard to believe as he threatens rival gang members to fall in line under his authority. However, fall in line they do, that is, until Ayres decides he's had enough and decides to retire. (Yes, the pretty boy baby-face had had enough of the game, when it looks like he hasn't started shaving) When he's gone, all hell breaks loose for reasons we can't really fathom, prompting them to attempt to reel him back in by kidnapping his kid brother, who is away at a military school. Ayres is one of the casting issues; the other is the policeman played by Robert Elliott, who is far too lethargic as he delivers his lines. The script is actually pretty good, and there are some lines that are wry and just perfect for the genre and time period. The ending is drawn out, however, and it's too bad the story surrounding the love interest (played well by Dorothy Matthews) who marries Ayres but secretly loves Cagney isn't expanded on, though the scene where she coyly slips off her wedding ring to encourage him is nice. The movie hits you over the head with an anti-crime message, but as you think about the actions of the police officer, coercing statements and selectively deciding who to protect, you have to wonder how effective this message was. Anyway, the net of all of this is a reasonably entertaining movie, but nothing to write home about. This was only Cagney's 2nd movie, just before a string of movies the following year which would cement him as a star, most notably, The Public Enemy, and he's such a natural with great screen presence. As a footnote, I found it ironic that while Ayres in the movie lauds Napoleon, his brother's military training, and war in general, Ayres in real life was a conscientious objector during WWII, making him very unpopular at the time, though he served with honor in the medical corps instead.
Antonius Block
Super Reviewer
A bit muddled and creaky but decent crime drama that suffers from miscasting in the lead role. Lew Ayres was a fine actor but never convincing as a villian, Cagney should have played the role and the picture would have had much more impact. The actor playing the police chief stinks up the screen whenever he appears with some of the worst, most wooden acting you'll ever see.
Doorway to Hell Quotes
There are no approved quotes yet for this movie.