Dope
(2015)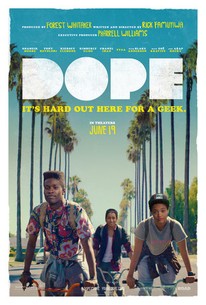 TOMATOMETER
AUDIENCE SCORE
Critic Consensus: Featuring a starmaking performance from Shameik Moore and a refreshingly original point of view from writer-director Rick Famuyiwa, Dope is smart, insightful entertainment.
Movie Info
A critical hit and audience favorite out of the Sundance Film Festival, in DOPE, Malcolm (Shameik Moore) is carefully surviving life in a tough neighborhood in Los Angeles while juggling college applications, academic interviews, and the SAT. A chance invitation to an underground party leads him into an adventure that could allow him to go from being a geek, to being dope, to ultimately being himself. (C) Open Road
News & Interviews for Dope
Audience Reviews for Dope
Upon my viewing of "Dope," the trailers sell the film as a group of kids who are 90's obsessed and get involved with drugs and things of the like. While that is essentially the plot, do not let that fool you. This film is for teenagers, film lovers, 90's obsessors and even a touch of emotion on the race side. This film has so many levels of craftsmanship that it demands multiple viewings. The lead, played by Shameik Moore, in what I believe to be his breakout role, is terrific as Malcolm. While dealing with bullies, trying to get into Harvard, trying to enjoy his time with friends, and getting involved in drugs, he is able to make that all seem believable. The underlying message that this film sets up is terrific and it is paid off wonderfully. Very unique editing choices, great direction, fantastic and fun performances all around, "Dope" is easily one of my favourite films of 2015. It's themes are pretty mature for anyone under the age of 18 to really get anything out of it, but if you do, it will be powerful. "Dope" is, well, Dope!
The interesting take here is of an outcasts among outcasts among outcasts, to wit, an urban black youth who actually wants to go to college (heavens to murgatroid!), who is in fact a nerd, who likes punk music, and who tenderly navigates the usually strains of the coming-of-age opera. The set-up was alright, but then the mandatory glorification of the drug culture part came up and nearly lost me. All of the this-is-supposed-to-be-cool scenes, well, I must've grown past that because I didn't find it too cool at all (like making out with a naked woman out-of-her-mind on MDA). As I've been told once or twice by the fresh generation: whatever.
Kevin M. Williams
Super Reviewer
½
Bumping with an emphatic fuse of nostalgic-90s-vibes mixed with a new-generation-essence, Dope is a infectious blend of entertainment. The satire, direction and visuals are just a few of the striking chords of this modern-day coming-of-age film that make this an underrated, overnight success. 4.5/5
Eugene Bernabe
Super Reviewer
Dope Quotes
| | |
| --- | --- |
| Diggy: | Guys, the FBI can track us. The police... |
| Malcolm: | No. |
| Jib: | No, they can't. |
| Malcolm: | Uh-uh. |
| Jib: | Not if you use a Tor browser. |
| Diggy: | What the fuck is that? |
| Jib: | Onion routing. |
| Malcolm: | Layered encryptions. |
| Jib: | It's like a game of Whac-a-Mole with thousands of computers. |
| | |
| --- | --- |
| Malcolm: | Allow me to introduce myself. My name is Malcolm Arakanbe. I'm a straight-A student with nearly perfect SAT scores. I play in a punk band with my friends and I'm a 90s hip hop geek. A bad day for most geeks would be being the butt of jokes but when you live in the Bottoms, a bad day could look like this. |