Dormant Beauty
(2014)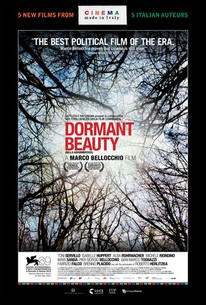 TOMATOMETER
AUDIENCE SCORE
Critic Consensus: As complex and compelling a work as its ripped-from-the-headlines storyline deserves, Dormant Beauty serves as a delightfully thorny testament to director Marco Bellocchio and his talented cast.
Movie Info
Isabelle Huppert (AMOUR, THE PIANO TEACHER) and Toni Servillo (THE GREAT BEAUTY, GOMORRAH) star in Italian master Bellocchio's compelling ensemble drama in which characters in three interrelated storylines struggle with the moral impasses and compromises of modern life. The film's point of departure is a real-life right-to-euthanasia case that became a national controversy in 2008, culminating in a Parliamentary vote. Against this backdrop Bellocchio explores the differing values and outlook of young and old, reactionary and idealistic: that of a senator (Servillo) with a passionately pro-life daughter (Alba Rohrwacher, I AM LOVE) preparing to cast his vote on the issue; a retired actress and devout Catholic (Huppert) who tends to her own comatose daughter; and a troubled young doctor (Bellocchio's brother, Pier Giorgio) who tries to help a suicidal methadone addict (Maya Sansa, GOOD MORNING NIGHT). (c) Emerging
News & Interviews for Dormant Beauty
Critic Reviews for Dormant Beauty
Audience Reviews for Dormant Beauty
Just as Italy is torn over a comatose woman being taken off of life support, Uliano(Toni Servillo), a senator, is called back to Rome for a very important vote on the subject. At the same time, his daughter Maria(Alba Rohrwacher) travels to the woman's hospital to join the vigil. Along the way, she has water thrown in her face at a rest area. Coming to her rescue is Roberto(Michele Riondino) who also writes his phone number on her arm. As unfamiliar as I am with the events that inspired "Dormant Beauty," and with Italian politics in general, it does come as no surprise that Catholic Italy would lose its collective sanity in all proportion to a case involving privacy. That also serves to explain the heightened emotions that Maria is feeling towards Roberto. And if only the movie had stayed with Maria and her deeply conflicted father, this might have been truly something when there is enough in their respective stories for a feature. Instead, the movie muddles it with two other unrelated storylines, one involving Rossa(Maya Sansa) who is trying for the world record in self-destructtion and yet another comatose young woman. So, instead the central themes turn out to be whether anybody is too far gone to save, while transferring the damsel-in-distress syndrome from Italy to the movie itself with its four women in jeopardy. And in fact, outside of one truly classic do-you-know-who-you-are-dealing-with moment, there is sadly no reason for Isabelle Huppert to be present here either.
Dormant Beauty Quotes
There are no approved quotes yet for this movie.