Double Impact
(1991)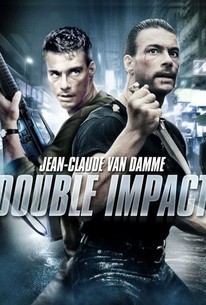 Movie Info
When their parents are cruelly murdered, identical twins Alex and Chad (both played by Jean-Claude Van Damme) are separated and sent off with different family friends. However, when the boys have both grown up, they are reunited in Hong Kong to exact revenge for their parents' deaths.
News & Interviews for Double Impact
Critic Reviews for Double Impact
Audience Reviews for Double Impact
½
Double Van Damme means double the fun and excitement. One of his best action films. Jean-Claude Van Damme brings on strong star power as the two main leads and hammers home some great action sequences. An exhilarating and adrenaline-pumping action-packed thrill-ride. It's smart, funny, thrilling and heart-pounding from start to finish. Loads of fist, kicks and explosive fire power. Action dose not get better or hotter than this.
Despite Martial Arts films and a few of JCVD's films being guilty pleasures of mine, this one is definitely not. The twin thing has been done many times previous to this and whlst most JCVD films have a similar kind of theme, revenge over somebody close etc, this one lacked in anything new Martial Arts-wise, a little too much show boating instead of skill.
Lady D'arbanville
Super Reviewer
½
Double Impact" was one of the first Van Damme movies I saw, and it was the one that made me a major fan of fighting movies in general. Jean-Claude Van Damme plays two roles in this action packed fighter. Two identical twins were separated when they were only a few months old after their parents were killed. Frank (Geoffrey Lewis) brings them together after 25 years of separation. The charismatic Chad (Van Damme) and the troubled Alex (Van Damme) collide at first, especially when Alex suspects that Chad might be trying to take something real valuable away from him. But they do have a couple of things in common other than their looks. They both have the same enemies, and they're both GREAT fighters. Yeah yeah, critics, non-fans, and even fans alike, all say that Jean-Claude Van Damme is a terrible actor. I don't know about everybody else, but I thought Van Damme did a good job portraying Alex (the evil twin) in this movie. But then again, when it comes to fighting movies, I don't care about great acting, I want to see some great fighting and action sequences, and "Double Impact" has tons of them! All in all, "Double Impact" might not feature the greatest effects, acting, or plot, but it does have some of the best fighting! If you like fighting movies at all, get "Double Impact." It's damme good!! NOTE: That was my Amazon review from the year 2001. I always cite this and "Sudden Death" as my favorite Van Damme movies.
Jason Owens
Super Reviewer
Double Impact Quotes
| | |
| --- | --- |
| Kara: | Now we can just forget this ever happened. Come on, now, turn around. That's a good girl. Yeah. And now... you can frisk me. |
| | |
| --- | --- |
| Chad/Alex: | Big surprise. HUGE surprise. |
| | |
| --- | --- |
| Chad/Alex: | Look like me? You, of all people, should know I would never in my life wear black-silk underwear! |