Double Team
(1997)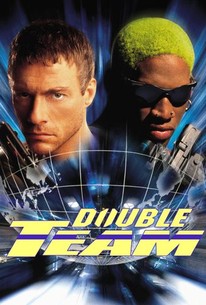 Movie Info
Like John Woo and Ringo Lam before him, noted Hong Kong action director Tsui Hark made his American filmmaking debut with a thriller starring Jean-Claude Van Damme. For this film, Hark also had the privilege of guiding basketball star Dennis Rodman through his first dramatic role. American anti-terrorist agent Jack Quinn (Van Damme) has retired from duty, content to stay with his pregnant wife at his seaside hideaway. However, the CIA lure him back into duty for one last mission: wiping out crazed international terrorist Stavros (Mickey Rourke). Quinn flies to Antwerp to ambush Stavros, but his plan fails; Quinn is captured and imprisoned in "The Colony," a prison camp for spies "too valuable to kill and too dangerous to set free." To further torture Quinn, Stavros kidnaps Quinn's wife; after she gives birth to their son, Stavros keeps him captive, surrounded by land mines and wild animals. Quinn escapes and makes plans to rescue his wife and child, but he can't do it alone, so he seeks the help of Yaz (Rodman), a top-level underground arms merchant with a tendency towards flamboyant body modification. Rodman also appears with R&B vocalist Crystal Waters on the song "Just a Freak" which appears on the film's soundtrack.
Critic Reviews for Double Team
Audience Reviews for Double Team
½
This movie is believed to be the last action flick from old Van Damage to achieve a theatrical release. However, apparently this is not true, from what I've read Australia got three more offerings after this. I actually find that hard to believe really, looking back at this. What do we have here? A movie about an odd pairing, a double team action flick actually called double team! And what better way to really mix things up in search of some originality than teaming up with an actual basketball star. One could also say what better way to try and milk cash from the dumb gullible public. Yes Van Damme is the star here naturally, but enter Dennis Rodman, one of the Chicago Bulls top players from a superstar team that was (at the time) virtually unbeatable. Rodman was essentially the perfect gimmick, he was a notorious player who would often clash with his opponents and game officials whilst at the same time managing to be highly effective. His crazy, bad boy, rock 'n' roll visage of tattoos, piercings and dyed hair was also a big lure and quite unusual for the time. This was an era before top sportsmen covered themselves in tattoos and had severe cyber razor haircuts, hence Rodman's outrageous look was always front page news for sports. For any Europeans reading, if you took this approach, it would in essence be the equivalent of casting Neymar or maybe Eric Cantona (minus the tats) alongside Van Damme. What better way to bring in the big bucks for your standard action crime thriller comedy. Did I say standard action crime thriller comedy? Why yes I did, and here's why. Jack Quinn (JCVD) is a counter terrorist agent who is supposedly killed in action trying to take down his nemesis Stavros (Mickey Rourke). Quinn is obviously not dead but instead has been stuck on a secret island colony for agents that are too valuable to kill off and too dangerous to set free. There he must continue to assist in counter terrorism but in secret, away from the rest of the world forever. In the mean time old Stavros kidnaps Quinn's wife because some how he knows Quinn is still alive. Quinn must now break free from the colony to save his wife. Spoiler alert! Quinn does break out and winds up hiring Yaz (Rodman) to help him in his quest. K so first lets just remember that this is an old JCVD action flick so there will be many many cliches, tropes and stereotypical bullshit. The colony idea was a nice touch, I did like that and I felt that plot could have been the entire movie. Quinn simply trying to escape a secret government island which houses super spies supposedly killed in action. That is a pretty solid prison premise right there and they could of really explored that with lots of fighting action. Sure its unoriginal but it sounds like it could of worked. Aside from the neat colony aspect the rest of this movie is pretty trashy really. For a start there is a huge amount of dubbing here which is really obvious. I've no idea why its like this but it just comes across as shoddy. In the original colony part of the plot there is a whole subplot about each imprisoned agent having a 'guardian' that watches over them in case they try to escape. In Quinn's case its his old agent friend Alex (Paul Freeman). The movie sets up this whole angle between these two characters yet it goes nowhere, literally. When Quinn escapes some other bloke pops up to try and stop him. No clue how this guy knew about Quinn's escape plan, he's just there and gets killed, so aimless. Even though Mickey Rourke's baddie character has a stupid name this guy was genuinely intimidating, to look at at least. This was at a time before Rourke got fucked up from boxing and then proceeded to have various bad facelifts so he does look good. Rourke has clearly gotten into shape for the role and learnt some martial arts too; this combination of heavy muscle and moves does make Rourke look like a worthy opponent for Van Damme. Indeed the final fight scene between the pair is actually pretty darn good with some thumping fisticuffs. Again though the use of dubbing and an obvious stunt double for Rourke makes it look and sound shoddy in places. As for the main man Rodman, well he lives up to his extravagant flamboyant image by dressing in the most absurd ways possible. When I say absurd I mean luminous skintight lycra, luminous vests, armbands, his awful nose and earrings and various sets of bizarre looking shades. All the while his hair changes colour throughout which I don't get because when does he have the time to do this process?? I should also mention that during the movie he throws out numerous corny quips that are basketball related, and towards the end of the movie he runs around topless for no apparent reason. Obviously the director (Tsui Hark) wanted to get his moneys worth from Rodman so why not have him topless showing off his ink and whatnot. Speaking of the finale, its supposedly set within the Colosseum in Rome...oh boy. Well for starters clearly its not, it was actually shot at Arles Amphitheatre in France. Secondly the entire arena area is fully lit up when Quinn and Stavros fight...like how? Why would the arena be lit up at night? Surely it would have been completely locked down overnight and surely if all the lights were on someone (security) would notice. Thirdly, Stavros has a tiger on hand to set upon Quinn...ugh! This has to be the most ludicrous part of the movie, where the literal fuck did he get the tiger? Did he steal it just for this one meeting or do they have tigers at Arles Amphitheatre? Why not just bring lots of henchmen and guns? What if the tiger didn't wanna attack Quinn and just laid down and went to sleep? Lastly, Stavros had already set up mines in the arena, which means he presumably broke in beforehand, killed all the security? and turned on all the lights, OK. But please tell me, why set up all those mines when you yourself could step...oh too late. In the end a mine blows up the entire amphitheatre with Stavros and the poor old tiger. Said explosion manages to destroy the entire historic site in a huge ball of fire and death that Quinn saves everyone from behind a vending machine. Yeah...because you have lots of soda vending machines within historical Roman sites (how did it not melt anyway?). At the same time Quinn's super agent friend Alex turns up, obviously to catch or kill him because he's Quinn's 'guardian'. This got me a little confused because I didn't think these agents were allowed off the colony to find someone who has escaped. Why not just use government forces or the military or something, the same people that brought him to the colony in the first place perhaps. Spoiler alert Alex lets Quinn go because...duh! I've been hard on this movie and for good reason, its littered with farcical nonsense, bad dubbing and a totally bonkers finale. The whole thing is a very stupid and very pathetic Bond-esque thriller with lame comedy. The only highlights that save the movie from being a total disaster are Rourke's great villain and some decent fight sequences. As said the addition of Rodman was a completely tacky gimmick and unfortunately that's what the movie is most remember for.
Phil Hubbs
Super Reviewer
with enough voltage to rock the free world?
½
Van Damme kicks a tiger in the face, i'll give some credit to that. Tsui Hark can't keep the camera in the same place for more than 5 seconds.
Tsubaki Sanjuro
Super Reviewer
Double Team Quotes
There are no approved quotes yet for this movie.