Double Wedding
(1937)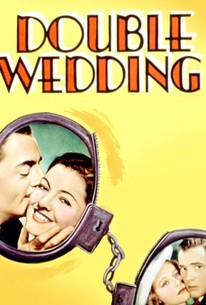 AUDIENCE SCORE
Critic Consensus: No consensus yet.
Movie Info
Richard Thorpe's comedy Double Wedding (1937) marked the seventh screen pairing of William Powell and Myrna Loy, known for their popular appearances together in the Thin Man series. Powell is Charlie Lodge, a bohemian artist who lives in a trailer, camped in an auto parking space in a busy city. Lodge believes that work is meaningless - that life should be full of entertainment and relaxation and nothing else. Loy is Margit Agnew, a stylish dress-shop proprietor who constantly works herself into the ground. Margit has picked a suitable husband for her younger sister Irene (Florence Rice), a rather dull and ineffectual young man named Waldo Beaver (John Beal). While together, Irene and Waldo happen upon the improvident Lodge. Charlie subsequently encourages the girl to break free of the oppressive constraints of her fiance and sister, and to pursue her dreams of heading out to Hollywood and becoming an actress; Irene immediately fancies herself in love with Charlie. Loy intervenes by confronting Powell --and anyone who can't guess who's going to fall in love at this point should be drummed out of the theater. This amusing and affable by-the-numbers MGM comedy was based on a play by Ferenc Molnar.
Critic Reviews for Double Wedding
All Critics (3) | Fresh (1) | Rotten (2)
Stupid when it needs to be smart, obnoxious when it needs to be charming.
A zany comedy that fails to work, probably because it's so arch, resistible and contrived.
Audience Reviews for Double Wedding
I enjoyed this movie it was really very funny. Powell and Loy are usually funny together, and they're good actors, so I highly recommend this movie.
½
Silly, manic comedy. Not one of the team's best.
One of the most fun screwball comedies I've ever seen. William Powell plays a bohemian wannabe director who gets involved with the little sister of Myrna Loy, a controlling amusingly neurotic businesswoman. A lot of fun moments lead up to 10 of the most chaotic and fun minutes I've ever had the pleasure of seeing. All "yumph", grasshoppers, gongs, big apes and the obscenely cute Myrna Loy. As good as Powell and Loy get without the words "Thin" and "Man" in the title.
Michael Gildea
Super Reviewer
Double Wedding Quotes
There are no approved quotes yet for this movie.