Doubt
(2008)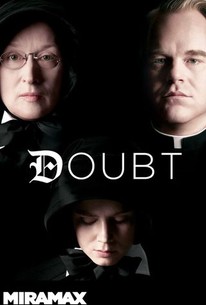 TOMATOMETER
AUDIENCE SCORE
Critic Consensus: Doubt succeeds on the strength of its top-notch cast, who successfully guide the film through the occasional narrative lull.
Movie Info
When the principal (Meryl Streep) of a Bronx Catholic High School accuses a popular priest (Philip Seymour Hoffman) of pedophilia, a young nun caught in between the feuding pair becomes hopelessly swept up in the ensuing controversy. 1964, St. Nicholas, the Bronx: The winds of change are sweeping through this tight-knit religious community, and charismatic priest Father Flynn (Philip Seymour Hoffman) is doing his best to adapt by revisiting the school's notoriously strict disciplinary practices. Unfortunately Father Flynn's progressive ideas stand in stark contrast to the longstanding beliefs of Sister Aloysius Beauvier (Meryl Streep), the iron-willed principal, who believes that an oppressive environment of punishment and fear is the only way to keep the student body in line. Suddenly into this tempestuous environment appears young Donald Miller, St. Nicholas' first black student. When hopeful innocent Sister James (Amy Adams) reluctantly reveals to Sister Beauvier that Father Flynn and Donald have been spending an unusual amount of time together in the church rectory, the unrelentingly righteous headmistress begins a merciless crusade to reveal the beloved clergyman as a lecherous child molester and have him permanently expunged from the school. Yet despite her moral certainty that Father Flynn has committed such an unspeakable transgression, Sister Beauvier has not a shred of actual evidence to back up her audacious claim. Now, as Sister Beauvier and Father Flynn enter into an epic battle of wills, the shock waves set into motion by their explosive confrontation threaten to destroy one man's reputation and tear apart the entire surrounding community. John Patrick Shanley adapted his own play for the screen under the guidance of producer Scott Rudin (The Queen, Notes on a Scandal). ~ Jason Buchanan, Rovi
Audience Reviews for Doubt
" I Have Doubts, Such Strong Doubts!" What a powerful ending, i loved the way it ended, i love that the Nun was questioning everything she believed in. Just fantastic! A fantastic cast, which then led to fantastic ending which deserved each of them a Golden Globe. Its a powerful movie about a catholic priest and a black boy that get a bit to 'close', throughout the movie you never hear the words 'Molestered' or 'pedeophile' but from the way the story is being told and from Meryl Streeps character your lead to believe that, that is whats going, however this may not be the case hence the title 'Doubt', you aren't given a proper answer to the accusations which in all honestly could be false. Throughout the movie your given clues which i guess your ment to pick up on and deduce and come to your own decision, a couple of clues your given is that the priest played by seymore-hoffman has long nails which is very much emphasized throughout the movie which could suggest that the priest is gay which of course in his job and at that era that would be unexceptable! The second clue is that when Streep is speaking to the young black boys mother she's saying that the boy gets beaten by his father for it, and would be beaten and picked on in school usually. It doesnt say specifics into what she is talking about but again you are left thinking that shes knows about the supposedly 'abuse'; this movie is fantastic and is written very well and is mesmerizing! I'll leave it to your own mind as to what you think! Enjoy! :)
Film Crazy
Super Reviewer
½
[img]http://images.rottentomatoes.com/images/user/icons/icon14.gif[/img]
Directors Cat
Super Reviewer
½
Man, what a movie! It is the early 1960s, and Sister Aloysius is the classic stern disciplinarian type of nun. She starts waging a campaign against the progressive parish priest Father Flynn after she suspects he has done something illicit with a kid. Sister James is the naive and kind nun caught in the middle, and unsure of who to believe. Despite not much happening, and, due to being an adaptation of a play, the whole film takes place in and around a single location, this is one gripping, riveting, and powerful work. Written and directed by the author of the source material, Doubt is a thought-provoking and unnerving tale of uncertainty, and beliefs. The subject matter is controversial, but completely relevant and important. This is a film that needs to be seen, regardless of one's beliefs, because it is a challenging work that really forces the viewer to engage with the material. As a bonus, the cast, and their performances are absolutely brilliant. I really don't think I need to say much else about the acting. I mean, come on: Streep, Davis, Hoffman, and Adams all got Oscar nominations in a film that is essentially all dialogue. Because this film is is an adaptation of a play, it does have the feel of a play, and isn't too "cinematic", but there are some touches here and there. It all looks excellent though, thanks to the superb work of Roger Deakins. This film is challenging, and will divide audiences, but that's the whole point. The fact that this film is also entertaining as well as heavy is proof that it is worth seeing.
Chris Weber
Super Reviewer
Doubt Quotes
| | |
| --- | --- |
| Sister Aloysius Beauvier: | His resignation is his confession. |
| | |
| --- | --- |
| Sister Aloysius Beauvier: | What happened in the rectory? |
| Father Brendan Flynn: | Happened? |
| Sister Aloysius Beauvier: | Hmm. |
| Father Brendan Flynn: | Nothing happened, I had a talk with the boy. |
| Sister Aloysius Beauvier: | What about? |
| Father Brendan Flynn: | Private matter. |
| Sister Aloysius Beauvier: | He's twelve years old, what could be private? |
| | |
| --- | --- |
| Sister Aloysius Beauvier: | In ancient Sparta, important matters were decided by who shouted loudest. Fortunately, we are not in ancient Sparta. |
| | |
| --- | --- |
| Father Brendan Flynn: | Where's your compassion? |