Dough
(2016)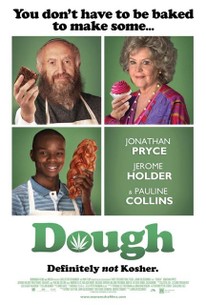 Movie Info
Curmudgeonly widower Nat Dayan (Tony award-winning actor Jonathan Pryce, currently in HBO's "Game of Thrones") clings to his way of life as a Kosher bakery shop owner in London's East End. Understaffed, Nat reluctantly enlists the help of teenager Ayyash (Jerome Holder), who has a secret side gig selling marijuana to help his immigrant mother make ends meet. When Ayyash accidentally drops his stash into the mixing dough, the challah starts flying off the shelves and an unlikely friendship forms between the old Jewish baker and his young Muslim apprentice. DOUGH is a warmhearted and humorous story about overcoming prejudice and finding redemption in unexpected places.
News & Interviews for Dough
Audience Reviews for Dough
Dough is pleasant enough. If you're looking for a sweet British confection that doesn't tax your brain, you should be entertained. Jonathan Pryce and Jerome Holder are working with cardboard characters but they give them life. They are captivating despite the utter predictability of the narrative. I mean, how much do you wanna bet that these disparate individuals will eventually learn to embrace each other's differences by the end? . This is essentially one of those culture clash sitcoms from the 1970s with a few minor tweaks. Anyone remember Chico and the Man? I miss that show. fastfilmreviews.com
Mark Hobin
Super Reviewer
Dough Quotes
There are no approved quotes yet for this movie.