Dough and Dynamite
(1914)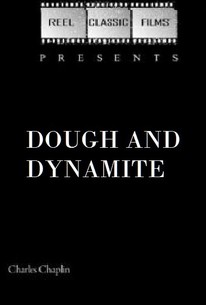 AUDIENCE SCORE
Critic Consensus: No consensus yet.
Dough and Dynamite Photos
Movie Info
Charlie Chaplin's 29th comedy for Keystone was one of his most popular, grossing $130,000 in its initial year of release. It was shot before, but released after Those Love Pangs, and was originally conceived as an early sequence of the latter, showing Charlie and Chester Conklin at work in a combination cafe/bakery. The sequence was so good Mack Sennett suggested that Chaplin expand it. Waiter Charlie has his mind on a waitress as he clears one patron's plate onto the food of another. He mans the bakery counter and is taken with a female customer, especially her hip movements which he imitates. He gets into fights with fellow-waiter Chester and disrupts work in the bakery below. The bakers strike for higher wages and Charlie and Chester are impressed into service as bakers at which both are inept. The striking bakers plot revenge as one of them buys a loaf of bread and inserts a stick of dynamite into it. They send a little girl to return it as undercooked, and the owner's wife brings it downstairs to have it baked further. She observes Charlie's method of bagel making - whipping a roll of dough around his wrist forming a ring and rolling it off over his hand. Meanwhile the owner (Fritz Schade) has been noticing that the waitresses have dough on their derrieres, indicating they've been socializing with Charlie in the bakery. When his wife returns from downstairs, the owner likewise sees dough on her behind, put there by Charlie, and he flies into a rage. He goes down to the bakery and berates Charlie, slaps him around and chases him upstairs to the restaurant and down again. In self defense Charlie flings dough and flour bags at Fritz and Chester. Just then the oven explodes, covering Chester and Fritz with debris and burying Charlie under a huge lump of dough from which he emerges, eyes first, as the film ends.
Critic Reviews for Dough and Dynamite
There are no critic reviews yet for Dough and Dynamite. Keep checking Rotten Tomatoes for updates!
Audience Reviews
There are no featured reviews for Dough and Dynamite at this time.
Dough and Dynamite Quotes
There are no approved quotes yet for this movie.