Down and Out in Beverly Hills
(1986)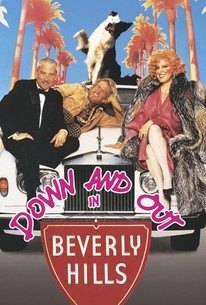 TOMATOMETER
AUDIENCE SCORE
Critic Consensus: An enjoyable farce that relocates Jean Renoir's Boudu Saved From Drowning to '80s California, offering fine comedic performances from Nick Nolte, Richard Dreyfuss and Bette Midler.
Down and Out in Beverly Hills Photos
Movie Info
When a suicidal hobo attempts to drown himself in their swimming pool, a wealthy family adopts the reluctant tramp. The family and their new companion clash and form unexpected bonds in this popular comedy inspired by Jean Renoir's Boudu Saved By Drowning.
News & Interviews for Down and Out in Beverly Hills
Critic Reviews for Down and Out in Beverly Hills
Audience Reviews for Down and Out in Beverly Hills
"Down and Out in Beverly Hills" is a remake of the 1931 Renoir film "Boudu Saved from Drowning." It also mirrors the classic "My Man Godfrey" in many ways. Though it is based on classic material dealing with the rich relating to underprivileged or down and out peoples, Mazurksy subverts these ideals by filtering through the veil of eighties' materialism. While the original content could be categorized as viewing ostentatious attitudes as a form of class struggles emanating from the bourgeoisie vs. the proletariat, this adaptation deals more with silly slapstick and aggressive hatred of snazzy outfits. Materialism is a very important concept in characterizing the rich and powerful, but when employed in dealing with big ideals here, it's used more as a way to characterize Dave and Barbara (Dreyfuss and Midler) than to unpack ideas. Besides that, the comedy just isn't succinct. It tries to make broad statements about the upper class and instead flops around making fun of everything and anything. What comes of this is a loud, aggressive kind of comedy that isn't all that funny.
Spencer S.
Super Reviewer
½
An 80's movie I actually hadn't seen! Bit far fetched, especially the end - only thing that guy would have got in real life was a kicking - but mildly amusing and has the 80's comedy thing going for it. Glad I had a chance to see it.
Nicki Marie
Super Reviewer
One of the great comedies of the 1980s, blessed with a terrific cast, tells the story of a family of rich, spoiled Beverly Hills residents who take car of a tramp who failed to commit suicide in their pool. There are a few great laughs but the comedy works mostly through the characters and how the hobo ends of putting every inhabitant of the house through his own very special therapy. That's full of irony, very charming and extremely entertaining. Dreyfuss and Midler are perfect as yuppie couple, Nolte nails the tramp outstandingly. And when the Talking Heads sing their hymn "Once in a lifetime" over the final punchline in the end, we know what we always hoped for: at the end of the day, the rich are just as poor as us.
Down and Out in Beverly Hills Quotes
There are no approved quotes yet for this movie.