Down by Law
(1986)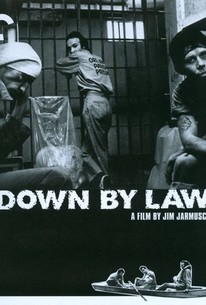 TOMATOMETER
AUDIENCE SCORE
Critic Consensus: Funny, original, and thoroughly cinematic, Down by Law represents writer-director Jim Jarmusch at his most ingratiating and evocative.
Movie Info
Jim Jarmusch follows his groundbreaking Stranger Than Paradise with another rambling, character-driven film with a twisted sense of humor. Set in a seedy New Orleans summer, Down By Law details the meeting of three unlikely convicts and their just as unlikely escape. Zack (Tom Waits) is an out-of-work DJ who is accused of murder when a body is found in the trunk of a stolen car he was hired to drive across town. Jack (John Lurie) is a pimp set up for a fall by a competitor. These two sullen souls are locked in a cell with Roberto (Roberto Benigni), a cheerful Italian immigrant who happens to have killed a man. The chemistry between the members of this loosely bound "team" is fascinating: Zack and Jack are forever laughing at Roberto, yet they rely on his energy and good will to escape their dire situation. The three mismatched miscreants eventually bust out of jail and head into the Louisiana bayous. Tired and hungry, they separate to search for food: Waits goes one way, Lurie another, and the frightened Benigni decides to risk stepping into a ramshackle diner. Somehow or other, he winds up in the arms of gorgeous Italian girl Nicoletta Braschi -- and is even able to provide new clothes and escape routes for his astonished comrades!
Critic Reviews for Down by Law
Audience Reviews for Down by Law
½
This is a prison break film, in a sense yes, but, since it's by Jim Jarmusch, it's rambling, free-wheeling, unconventional, and does it's own thing. What we have here is the tale of three men who all wind up sharing a prison cell, and deciding to make a break for it. Two of them, Zack (an unemployed DJ) and Jack (a small time pimp) were set up, and not truly guilty. They quickly come to hate one another, and prefer to spend most of their time in silence. The other, Bob (an excitable Italian tourist) is only there due to miscommunications and cultural misunderstandings. He has a love of American idioms, as well as an insatiable need to talk. It's a weird trio, but yet, it kinda works. In a way, I don't think this film is fiction, and the actors are basically just playing themselves. It's a free form character driven piece that, among other things, is primarily about boredom. The film is slow, easy going, and spends a lot of time focusing on these guys just sitting around wasting time. It's a prison break film where the mechanics of the escape are never discussed. One day, they just do it. In a way, I really dug this. I liked the loose, jazzy, beat flavor of it all. It's more polished than Jarmusch's previous film Stranger Than Paradise, but I think I liked that one a little more. I have the ability to sit and enjoy meandering films sometimes, but I think this one went a little too far in that regard, or maybe I just wasn't quite in the mood for this kind of thing when I sat down to watch it. Also, after a while, Jarmusch's films all end up being essentially the same, with the themes, motifs, style and execution not really changing...kinda like Woody Allen's works. Even then, I can't help but dig this stuff. We do get some fantastic cinematography from esteemed DP Robby Müller though, and New Orleans, and its surrouning bayous look absolutely gorgeous in crisp black and white. John Lurie's score, and Tom Waits's songs are pretty terrific too. And so are their performances. As I said, it really feels like they're just playing themselves, and I just in general love how Jarmusch has not only a knack for casting musicians as actors, but getting people that can actually perform in a way that doesn't come off as stunt casting. This was also the film that introduced the west to Roberto Benigni, who wouldn't get mainstream attention until Life is Beautiful, but really got off to a great start here. He's a riot as Bob, even if Jarmusch sometimes lets him run on maybe a tad too long here and there. He does have great chemistry with Waits and Lurie though, and most of their many scenes of bantering about are an absolute joy. I'm really torn on this one. On one hand, this just feels like a million other Jarmusch films I've seen before, so it's growing old on me, but then again, it's done so entertainingly that, retread or not, it's hard not to give props to. Let's just give it a high B+ and split the stars at somewhere between 3.5 and 4, and call it a day.
Chris Weber
Super Reviewer
Jarmusch's greatest film in my opinion, it features great performances from the three lead roles (especially Tom Waits who is one of my favorite artists) and beautiful black and white shots of New Orleans and the Louisiana bayou.
Graham Jones
Super Reviewer
Yes, I did only see the beginning of this movie, but I was so bored with the beginning that I couldn't watch the rest of it.
Down by Law Quotes
| | |
| --- | --- |
| Roberto: | I'ma gooda egga. |
| | |
| --- | --- |
| Zack: | Buzz off. |
| Roberto: | Thank you. Buzz offa to you, too. |
| | |
| --- | --- |
| Jack: | Guard! Guard! Guard! Guard! Guard! Guard! |
| | |
| --- | --- |
| Zack: | Yeah, Bob's real good with the restaurant English. |