Down Periscope
(1996)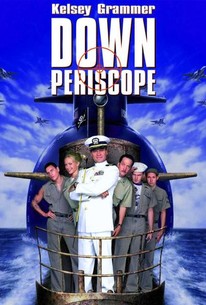 TOMATOMETER
AUDIENCE SCORE
Critic Consensus: Down Periscope takes audiences on an aimless voyage for aquatic hijinks, proving there really aren't any effective sub-stitutes for a well-written script.
Movie Info
Vulgar, slapstick comedy abounds in this feature film debut for television sitcom star Kelsey Grammer. Almost everyone else thinks of Lieutenant Commander Tom Dodge is a class "A" goof who messes up every task he is assigned, but Adm. Dean Winslow thinks otherwise and decides to give Dodge one last chance by assigning him to helm an outmoded, diesel powered, rusty in a series of wargames. Dodge's sub is to be the enemy and must somehow outsmart their high tech opponents. Though ostensibly only games, Admiral Yancy Graham, who considers Dodge an embarrassment to the Navy, decides to do everything he can to scuttle Dodge and his ragtag crew's mission. ~ Sandra Brennan, Rovi
Critic Reviews for Down Periscope
Audience Reviews for Down Periscope
Down Periscope for me, at least is a harmless comedy. Down Periscope is one of those films that you either love or hate. People seem to hate it because it's "boring", "predictable" and that the jokes fall flat on their faces. I don't believe that. Sure there is definite room for improvement, but Down Periscope has many funny parts to it. Which I won't reveal, because I don't want to spoil the film for you. Kelsey Grammer plays Commander Tom Dodge who has just been assigned a commission to command a diesel powered sub. He also has been assigned with a crew of misfits. With that, Dodge is ordered to participate in a war game against the U.S Nuclear Navy. The premise of the film is simple, but it's lots of fun if you're in the right state of mind to watch this type of film. The film does provide a few good laugh out loud moments as you watch the ineptitude of the crew unfold. Though not perfect, Down Periscope is a good little comedy ton watch with friends over a few beers. Also this one of the few films where Rob Schneider is actually very funny, his performance in this film makes the film better than you might think. Kelsey Grammer gives a good comical performance as well. Down Periscope may not win any prizes, but it's a harmless fun comedy that has plenty of laughs. Give it a chance, it's better than what most people have claimed it to be. If you're in the mood for a silly comedy, the Down Periscope is the comedy for you.
A rusty sub. A rebel commander. A renegade crew. When destiny called, they should have hung up.
Inthebakset
½
This screwball comedy movie is practically Police Academy at sea. The humor is a little sleazy at times but the language wasn't too bad. Kelsey Grammar plays a likable role in the Navy comedy. Most of his crew are somewhat stupid characters but I did like the sonar man with the great hearing. Lauren Holy was okay as the sexy female interest but Rob Schneider was just plain annoying and tended to overact. He's either very funny or very stupid in his films. Bruce Dern, as always, was an effective "bad guy".
Dean McKenna
Super Reviewer
Down Periscope Quotes
There are no approved quotes yet for this movie.