Down to the Dirt
(2008)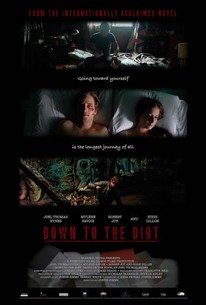 Movie Info
Joel Thomas Hyne's acclaimed novel about a Newfoundland drug addict's attempts to make sense of his own warped existence serves as the foundation for this poetic yet visceral addiction drama that stars the author himself as the damaged protagonist. Keith Kavanagh (Hyne) is a collection of contradictions; he's a coward, a bully, and a clown all at once, and his life is a mess of complicated relationships. Though he longs to start life anew somewhere else, he lacks the motivation to put any genuine effort into doing so. The only thing that Keith knows is that he wants off of the Rock, and he loves his girlfriend Natasha (Mylène Savoie). The first time we see Keith he is lying motionless and bloodied, quite possibly dead. Though it appears to be the end, this is actually the starting point as the viewer travels back in time to see how Keith began his descent into a life of drug pushing, unfaithfulness, and torture. It's not always a pleasant ride, because despite the fact that Keith can at times be a sympathetic figure, a closer look reveals an impulsive, amoral degenerate who seems hell bent on self-destruction.
Critic Reviews for Down to the Dirt
Audience Reviews for Down to the Dirt
½
This film is a depressing coming-of-age story based upon Newfoundland author Joel Hynes' first novel. It's gritty and dirty in the depiction of the main character's plummet from small community- troubled teen to a drug and alcohol addicted young man bent on self destruction.The author portrays the main character quite well and has some promise as an artist and author. I have'nt read the book but the film is OK...It's immature in development and chock full of cliches but this young man does a decent job of portraying his main character's angst and eventual enlightenment. A very good first project...
Audrey Lush
Super Reviewer
Down to the Dirt Quotes
There are no approved quotes yet for this movie.