Down to the Sea in Ships
(1923)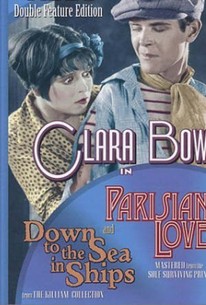 AUDIENCE SCORE
Critic Consensus: No consensus yet.
Down to the Sea in Ships Photos
Movie Info
This whaling drama is most famous as the screen debut of Clara Bow (Bow had actually made one previous film, Beyond the Rainbow, but her scenes wound up on the cutting-room floor). Besides that, it is also solid entertainment, offering both the best (documentary-like scenes of a whale being gutted) and the worst (some scenery-devouring histrionics) that silent film had to offer. It's a period piece, taking place in a seaside town of the mid-1800s. Charles Morgan (William Walcott) is a Quaker who owns a successful whaling business. He has lost his son to the sea and is raising his tomboyish granddaughter, Dot (Bow). Morgan wants his own daughter, Patience (Marguerite Courtot) -- Dot's aunt -- to marry a Quaker whaler. Patience, however, is in love with Allan Dexter (Raymond McKee), the non-Quaker boy next door, who has just returned from school. Meanwhile, Jake Finner (Pat Hartigan) and Samuel Siggs (J. Thornton Baston) are plotting to get Morgan's fortune. Siggs, disguised as a Quaker, goes to work for Morgan and convinces him that he should marry Patience. Dexter, however, loves Patience so much he is willing to change both his religion and his profession to win her. He winds up on a whaling ship, captained by the wicked Finner, gets involved in the subsequent mutiny, and harpoons his first whale. Dot has stowed away on the ship because she has a crush on one of the boys (James Turfler) who is on the crew. Dexter returns home just in time to prevent Patience from marrying Siggs. Although Courtot spends most of her time merely looking pretty, there's a palpable chemistry between her and McKee -- they actually fell in love in real life and married. With her vivacious personality and natural acting, Bow (who looks far younger than her 16 years) steals almost every scene she is in. She obviously had star quality, even this early in her career -- something that did not go unnoticed amongst critics and filmgoers.
Critic Reviews for Down to the Sea in Ships
Audience Reviews for Down to the Sea in Ships
If you like ships, whaling, and romance, you may like this movie. I didn't like how this movie spent so much time on showing you how they caught and cut up the whales and sailed out to catch more, it was like reading Moby Dick, but even duller. The romance part of it was pretty good, though, and Clara Bow is very cute. Overall I didn't like it, though, there was just too much whaling.
Down to the Sea in Ships Quotes
There are no approved quotes yet for this movie.