Down to You
(2000)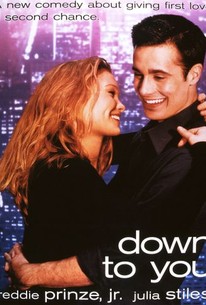 Movie Info
This Big Apple-based romantic comedy charts the tumultuous relationship between liberal arts student and budding chef Al (Freddie Prinze Jr.) and his first girlfriend, Imogen (Julia Stiles), a self-possessed freshman who wants to become an artist. After meeting in a bar, the pair jump into a giddy, passionate affair that's grown-up enough to include face time between the young lovers and Al's DJ mom and TV-chef dad (Henry Winkler). After a summer abroad, however, Imogen feels like the relationship is robbing her of her youth, and the couple must struggle with romantic and domestic growing pains. Meanwhile, their wacky friends -- who include porn stars (Selma Blair and Zak Orth), stoners (Rosario Dawson), a mullet-haired lunkhead (Shawn Hatosy), and a Jim Morrison look-alike named Jim Morrison (Ashton Kutcher) -- provide laughs, advice, and sexual temptation. The debut film from writer/director Kris Isacsson, the teen-themed Down to You marked a change of pace for normally grown-up Miramax Films. In addition to a slew of recent rock and pop, the film prominently features music from such downtown New York fixtures of the past decade as Deee-Lite ("Groove is in the Heart") and Cibo Matto ("Moonchild").
Critic Reviews for Down to You
Audience Reviews for Down to You
Patchy but cute. Some of the story and acting, particularly from the supporting cast, is painfully hammy and nearly puts this in b grade hell. However, Julia Stiles and Freddie Prinz Jnr are both so sweet in this it kind of balances out. It's not a great movie or a must see, but for anyone who liked all the 90's teen films, this is enjoyable enough.
Nicki Marie
Super Reviewer
½
bland, stiles continued employment baffles me.
Julia Stiles at her chick-flick best....It's good, not great.
Flutie Archibald
Super Reviewer
Down to You Quotes
There are no approved quotes yet for this movie.