Downfall (Der Untergang)
(2004)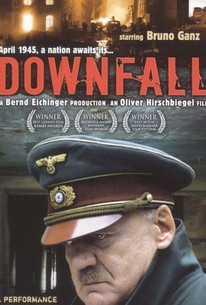 Downfall (Der Untergang) Photos
Movie Info
In the dead of a November night in 1942, SS officers through the woods escort a group of young women to Wolf's Lair, Hitler's headquarters in Eastern Prussia. They are candidates for the post of personal secretary to the Fuehrer. Among them is 22-year-old Traudl Junge, a fresh-faced girl from Munich. Traudl is chosen for the job and she is overcome with joy at the thought of serving beside her Fuehrer. BERLIN, APRIL 20, 1945: Hitler has retreated to a bunker system under the German Chancellery. Traudl Junge is asleep in her room, deep beneath the ground. She is awakened by tremors from artillery fire. The enemy is getting closer. Charting the last 10 days of Hitler's life, from his 56th birthday on April 20th, 1945 to his suicide on April 30th, the film uses multiple characters to show the chaos of a country coming apart at the seams, from Hitler's henchman under the streets of Berlin, to the soldiers and civilians fighting and dying as the Soviet Army ravaged the city above.
News & Interviews for Downfall (Der Untergang)
Critic Reviews for Downfall (Der Untergang)
Audience Reviews for Downfall (Der Untergang)
½
A very interesting look at an oft-over-reviewed subject.
Christian C
Super Reviewer
½
Based on true life memoirs of people who were actually there, this starkly gripping depiction of the last days of the third reich can hardly be described as an enjoyable experience. The german people are suffering terrible hardship as the attacking Russian forces reach Berlin while Hitler's cowardly henchmen are attempting to make their escape or plotting the murder/suicides of themselves and their families when faced with the consequences of their monstrous actions. Lynch mobs roam the streets dispensing "justice" against suspected traitors (who in Hitler's deranged eyes seemed to include virtually everyone) and ill-equipped professional german soldiers are ordered to fight to the death in the face of certain defeat. The entire cast of the film are superb, but it is Bruno Ganz's remarkable performance that is the centrepiece of the film. His portrayal of Hitler veering between twitching broken shell and wild-eyed delusional maniac (who even at the end still commanded fanatical belief in him from some of his people) is totally convincing. It is still difficult to fully comprehend what you are seeing even as it happens in front of your eyes and I was left feeling shellshocked at the film's end;.possibly the most important film made about WWII and something everyone simply must see.
That this, the most accessible, most illuminating film about the end of the Third Reich and the last days of Adolph Hitler, comes from Germany ... well, its mind-boggling. Ganz's performance is soul searing and no one in the piece deserts the high standards he sets. There are no false moments to be found here. A masterwork. A revelation.
Kevin M. Williams
Super Reviewer
Downfall (Der Untergang) Quotes
| | |
| --- | --- |
| Adolf Hitler: | Be ruthless. Life doesn't forgive weakness. |
| | |
| --- | --- |
| Hermann Fegelein: | So that means we are no longer allowed to think? |
| | |
| --- | --- |
| Hermann Fegelein: | Yeah? What do you expect from a teetotal, non-smoking vegetarian? |
| | |
| --- | --- |
| Traudl Junge: | All these horrors I've heard of during the Nurnberg process, these six million Jews, other thinking people or people of another race, who perished. That shocked me deeply. But I hadn't made the connection with my past. I assured myself with the thought of not being personally guilty. And that I didn't know anything about the enormous scale of it. But one day I walked by a memorial plate of Sophie Scholl in the Franz-Joseph-Strasse. I saw that she was about my age and she was executed in the same year I came to Hitler. And at that moment I actually realised that a young age isn't an excuse. And that it might have been possible to get to know things. |