Dr. Cyclops
(1940)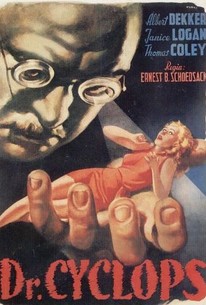 Movie Info
In this film, the evil Dr. Thorkel (Albert Dekker) has developed a way to shrink people to a minuscule size and sets about inflicting his experiments on everyone he can find.
Critic Reviews for Dr. Cyclops
Audience Reviews for Dr. Cyclops
Another film from the ultimate Sci Fi Collection. This is about a film where a Doctor is using uranium to miniaturizes things, The miniature horse is pretty cool, then 5 people will not leave him alone so he miniaturizes them. Must have been a drive in hit. 3 stars
Bruce Bruce
Super Reviewer
This movie feels like a 50s B movie, and it's pretty much the same story as the late 50s movie, Attack of the Puppet People, but Dr. Cyclops got there first. This movie has cool special effects, which reminded me of 50s movies, and I was surprised to see such effects in a movie from 1940. It's not a fantastic story by today's standards, but this movie is still pretty cool when you think about it.
½
Dr. Alexander Thorkel has discovered a way to use radiation to shrink pigs, horses and other assorted animals to a fraction of their former size. Obsessed with this new discovery and paranoid that his colleagues will steal his invention, he decides to shrink them as well. I caught this one on late-night television many, many years ago and absolutely loved it. Albert Dekker is the ultimate "mad scientist" in this Technicolor extravaganza of campy dialog and extraordinary special effects.
Randy Tippy
Super Reviewer