Dr. Goldfoot and the Bikini Machine
(1965)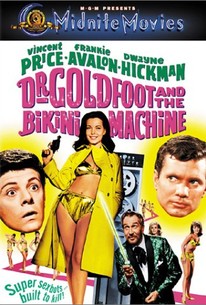 Dr. Goldfoot and the Bikini Machine Videos
Dr. Goldfoot and the Bikini Machine Photos
Movie Info
The great Vincent Price obviously had fun with his characterization of Dr. Goldfoot in this campy spy spoof directed by Norman Taurog. With his henchman Igor (Jack Mullaney), the demented doctor builds a machine that mass-produces an army bikini-clad babes. Goldfoot programs his vixens to seduce the wealthiest men alive and convince them to sign their fortunes over to him - thus enabling the fiendish doctor to amass tremendous wealth and take over the world. Frankie Avalon co-stars as Secret Agent Craig Gamble, who sets out to destroy the women and bring Goldfoot's plan to a screeching halt. Annette Funicello and Harvey Lembeck provide cameo appearances. Strictly for fans who loved those 1960s drive-in quickies.
Critic Reviews for Dr. Goldfoot and the Bikini Machine
All Critics (7) | Fresh (2) | Rotten (5)
A lame-brained comedy that might fly with viewers who are drawn to low-brow humor like flies to manure.
Pretty darn stupid, which is not at all an impediment to it being a terrific lot of fun.
Audience Reviews for Dr. Goldfoot and the Bikini Machine
I love this movie, it's so fun, and Vincent Price is in it too. It's hilariously silly, and makes fun of both the "Beach" movies and Price's horror movies at the time as well, while making fun of itself a bit too. I highly recommend it.
Horror icon Vincent Price goes all hammy and over the top. He's not very good at comedy. Frankie Avalon takes all kind of prat falls or causes other characters to do so, but is not really funny either. The movie is filled with all sorts of corny sight gags and slapstick and was a waste of my time.
Byron Brubaker
Super Reviewer
½
a movie made for the sixties drive-in make-out crowd(who wouldn't be watching it anyway, eh?), a campy "romp" with hollywood's teen draw (?) stars, frankie avalon and dwayne hickman (dobie gillis), but the surprise here is vincent price for giving this house payment his very all. the ending is about 20 minutes of oh-how-i-wish-this-was-slapstick, more sad than kitchy-koo. only for those stoner nights, i think. but it's a sad reminder of many hours of my youth gone watching sorry dreck of this low caliber. hey! i just got through watchin it!!! they got me again...dammit!
Kevin M. Williams
Super Reviewer
Dr. Goldfoot and the Bikini Machine Quotes
There are no approved quotes yet for this movie.