Dr. Knock (Knock)
(2017)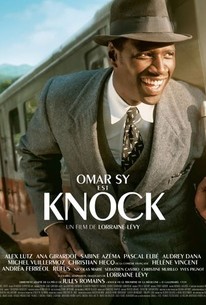 Movie Info
Knock, a brilliant former hustler turned doctor, moves to a village in the French Alps to take over the practice of the retiring colleague. He is dismayed to learn that the pure mountain air and invigorating climate of the charming 1950s village conspire to keep the inhabitants in excellent health. Knock is determined to make his fortune, and sets about convincing the population that a healthy person is sick but doesn't know it. A master in the arts of seduction and manipulation, Knock diagnoses everyone he sees with an illness, real or imaginary. He is a hit. His free Tuesday morning consultations bring even the lowliest inhabitants to his door. In return he gives their existence a newfound purpose. But Knock's success provokes jealousy. The village priest is furious to see his flock congregating outside the doctor's practice rather than inside his church. Two further obstacles stand in his way: a sinister individual from his shady past who tries to put the squeeze on him, and the love of a beautiful farm girl.
Critic Reviews for Dr. Knock (Knock)
Audience Reviews
There are no featured reviews for Dr. Knock (Knock) at this time.
Dr. Knock (Knock) Quotes
There are no approved quotes yet for this movie.