Dr. Mabuse the Gambler (Dr. Mabuse, der Spieler - Ein Bild der Zeit) (Dr. Mabuse, King of Crime)
(1922)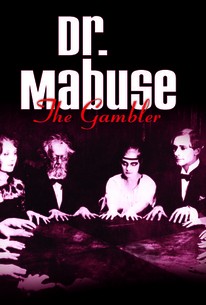 Dr. Mabuse the Gambler (Dr. Mabuse, der Spieler - Ein Bild der Zeit) (Dr. Mabuse, King of Crime) Photos
Movie Info
Dr. Mabuse: The Gambler is the eight-reel version of Fritz Lang's twenty reeler, two-part silent thriller, Dr. Mabuse. Mabuse (Rudolph Klein-Rogge) a sinister mesmerist/psychiatrist, toys with the weaknesses of the rich and influential. He worms his way into the confidence of wealthy men, plays cards with them, hypnotizes them into cheating at their businesses, then puts them in a position to be blackmailed so that he can corner the stock market. A devilishly ingenious plan-but Mabuse is up against the plodding, methodical police detective Wrenk, whose subconscious is not so easily swayed...at least, not at first. In 1932, Lang directed a talkie sequel to Dr. Mabuse the Gambler, The Testament of Dr. Mabuse.
Critic Reviews for Dr. Mabuse the Gambler (Dr. Mabuse, der Spieler - Ein Bild der Zeit) (Dr. Mabuse, King of Crime)
Audience Reviews for Dr. Mabuse the Gambler (Dr. Mabuse, der Spieler - Ein Bild der Zeit) (Dr. Mabuse, King of Crime)
Fritz Lang's "Dr. Mabuse, the Gambler" is so full of action and suspense that you may forget that it's a silent while watching. And sure, its length is intimidating (about four hours, in two parts), but it's really no chore to sit through if you spread your viewing across two nights. The film's familiar "supervillain" plot is still a fixture of Hollywood cinema. Dr. Mabuse (Rudolf Klein-Rogge) is a psychoanalyst whose mystical powers of mesmerism allow him to control people. This makes him a terror at baccarat, where his glaring eyes compel opponents to make losing choices. He is also a master of disguise (the film's most reliable source of fun), and thus pulls off all sorts of devilish tricks without anyone realizing they're the work of a single person. His crimes are not limited to gambling, and eventually span counterfeiting, rioting, commodities fraud and murder. However, a crafty state attorney named Von Wenk (Bernard Goetzke) finally notices the pattern, and becomes the first authority to pose a serious threat to Mabuse's underworld reign. The battle of wits between these formidable adversaries is the story's core. The film's daunting length is mostly due to all the extended caper sequences. The first two schemes alone span the opening 40 minutes. Subplots with two alluring women -- an exotic dancer who's an accomplice to Mabuse, and a countess who ducks Mabuse's romantic advances and helps out Von Wenk -- also chew up plenty of time. The fate of the countess's vulnerable husband becomes another important element, depicted in detail. Where "Dr. Mabuse, the Gambler" falls short of other Lang classics is its visual imagery. Outside of one secret casino (a performance stage can lower over a retractable dealer's table at a moment's notice), the dazzling sets of films like "Metropolis" and "Die Nibelungen" are in short supply. There are a few notable effects and props -- hypnotic words superimposed over the action, a shot of Mabuse's "floating" head, a couple of laughably phallic costumes from a burlesque show, one multi-image segment with avenging ghosts -- but most scenes take place in everyday room interiors. Still, Klein-Rogge's bulging eyes are practically a special effect on their own.
Eric Broome
Super Reviewer
An ambitious tale that blends crime, mystery and horror. Starring an arch villain who lays in the same snake pit with the likes of Fu Manchu, Svengali, professor Moriarty, Fantomas and dear old Dr. Caligari. despite its excessive duration, it delivers a superb interpretation by Rudolf Klein-Rogge and the visual power of Fritz Lang, master in the creation of unnerving and nightmarish atmospheres to accentuate the twisted psyche of this peculiar and mephistophelian character.
Pierluigi Puccini
Super Reviewer
½
It's a four hour long silent film but it didn't bore me not even for a second thanks to the great story & Lang's masterful direction, One of the best & most entertaining silent films I've ever seen
Dr. Mabuse the Gambler (Dr. Mabuse, der Spieler - Ein Bild der Zeit) (Dr. Mabuse, King of Crime) Quotes
There are no approved quotes yet for this movie.