Dr. Otto and the Riddle of the Gloom Beam
(1986)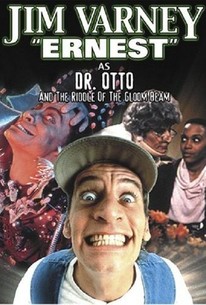 AUDIENCE SCORE
Critic Consensus: No consensus yet.
Dr. Otto and the Riddle of the Gloom Beam Photos
Movie Info
In this comedy, the sinister Dr. Otto (Jim Varney) concocts an evil plan to take over the world and it is the heroic Lance Sterling (Myke Mueller) who stops him. As Lance attempts to capture the crazed scientist, Dr. Otto eludes him by making good use of an appearance-altering device.
Critic Reviews for Dr. Otto and the Riddle of the Gloom Beam
There are no critic reviews yet for Dr. Otto and the Riddle of the Gloom Beam. Keep checking Rotten Tomatoes for updates!
Audience Reviews for Dr. Otto and the Riddle of the Gloom Beam
This movie was so crazy. I loved it!!! Though made in 1986, it was ahead of its time. Dr. Otto, played by Varney, wants to make money worthless and demagnetizes credit cards and damages bank accounts where no one can cash their checks, thus causing riots to break out all over the U.S. The nation is looking at another depression, one worse than the one in the 1920's. The economy is bad, the government has no idea who owes who and how much. The stock market is in a mess. It really reminds me of how our economy is today-in 2011. When you get right down to it, this movie is not far off the mark on how things are or are going to be. Varney-one of the chief writers (along with Cherry and Sams)-knew what he was doing when he wrote this. Lance was kind of a pathetic excuse for a hero that I found myself siding with Dr. Otto Von Schnick-ick-ick. I loved the riddle and I only could figure out that Auntie Nelda and the South Pole was the answers. The 'changing coffin' was a favorite of mine and along with Dr. Otto, Guy Dandy was another favorite character. Call me strange, but I think Dr. Otto is kind of hot. Other characters Varney portrays in this movie: Rudd Hardtact and Laughin' Jack. Of course, I cracked the biggest smile at the end of the movie when none other than 'Ernest P. Worrell' stepped out of the 'changing coffin'. This is not an 'Ernest' movie and has a much darker theme but it's still a great movie. I noticed a lot of characters that have went on to be in the Ernest movies like Mac Bennett, Daniel Butler, Myke Mueller, Jackie Welch and Bill Byrge, who actually had a speaking role in this as a gas attendant.
Stacy Avary
Super Reviewer
Crazy Jim Varney goodness.
Tim Salmons
Super Reviewer
Dr. Otto and the Riddle of the Gloom Beam Quotes
There are no approved quotes yet for this movie.