Dr. Who and the Daleks
(1965)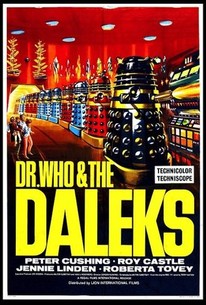 Dr. Who and the Daleks Photos
Movie Info
Dr. Who was/is the longest-running entertainment series ever to run on the BBC, and for a variety of reasons, including its sassy humor, delightfully idiotic sets and special effects, and some first-class star-turns by a series of usually underrated actors in the title role, it generated a fanatic and devoted following in the U.K. One of the earliest "Doctors" in the movies was the great horror favorite Peter Cushing, and in this movie he saves the universe and, not incidentally, our dear old earth, from domination by the mostly robot and decidedly anti-biological Daleks (predecessors of the Borg, no doubt), a group of endearingly awfully designed (and made) A-frame shaped robots which, when massed together, appear to be engaged in a bumper-car race. No matter, the story races along at a furious and improbable pace, punctuated by wisecracks and gags, most of them from the almost-wise Doctor himself as he races about in his infinitely large (on the inside) antique London telephone booth known as "the Tardis" (Time And Relative Dimensions In Space), protecting the innocent. Fans of the series will be delighted with the film, but as is so often the case, newcomers to the series will wonder what all the fuss is about. The cumulative cheesiness of the whole Dr. Who concept does take quite a bit of getting used to, and any attempt to take the series or this movie seriously is doomed to failure.
Critic Reviews for Dr. Who and the Daleks
Audience Reviews for Dr. Who and the Daleks
With a budget just barely above that of the TV show, this is a big screen, color remake of first Dalek adventure, which doesn't expand the story, while removing most of the elements that made the television show so intriguing. The Doctor is just some scientist from earth, as is his granddaughter Susan. Barbara is now also the doctor's granddaughter and Ian is her suitor. Peter Cushing does give an interesting interpretation of the the Doctor. Hard core fans of the television series may want to view this, everyone else beware.
Anthony Valletta
Super Reviewer
Hmmm. It was certainly the wrong idea to make the show into a movie but I don't know if the show came from the film. However this film has soom laughable moments and is not one I recomend but it's a film that will entertain you on a weekend for sure
Sarah Gaish
Super Reviewer
In order for a Dr. Who fan to enjoy this, they must first come to terms with the fact that the Doctor is made a human with the surname of Who. He also invented the TARDIS himself. It's not that hard to ignore, as once they leave Earth, the plot is pretty much exactly what one should expect from Who. He travels into space with a number of companions and must help a peaceful race stop those damn pesky Daleks. Cushing gives a rather decent performance, being absent minded but clever at the same time. Roy Castle is overused as a mumbling fool. He falls over when doors open, sits on things, runs into walls etc. But at least he has a slight arc as he overcomes his fears and becomes heroic. Linden is more of an excuse to have Castle come along, as she doesn't do much. Perhaps two guys and a little girl travelling in space together would have seemed too weird to some. Some of the writing is a bit rough, as it basically just wants to hurry along. When meeting his granddaughter's new boyfriend the first thing Who does is show him the time machine. Good score, decent enough effects, result in a movie that doesn't betray its television roots. With some clever writing this could easily be placed into The Doctor's timeline, but as it stands it is some cheesy sci-fi fun.
Luke Baldock
Super Reviewer
Dr. Who and the Daleks Quotes
There are no approved quotes yet for this movie.